West Palm Beach
The  Medical Assistant  faculty and students observed National Medical Assistants Recognition Week (NMARW), October 20-24, 2014. The 2014 theme, "Medical Assistants, Providing Care for Life" emphasizes their commitment as a vital member of the healthcare team. Students set up a clinic in the lobby providing free blood pressure checks, glucose and hemoglobin checks.  Additionally, the program adopted the Alzheimer's Association, donations collected will go towards finding a cure for Alzheimer's.
Medical Assistants are a key component to the success of a healthcare provider and the campus is so fortunate to have such wonderful students in the program who show such care and compassion for their patients. Since 1984, RMAs and others in the healthcare community have honored the vital role and the professional excellence that medical assistants provide in the delivery of healthcare to patients.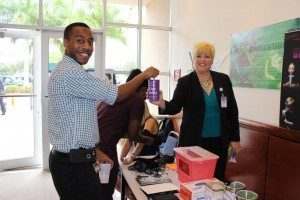 Tampa
In recognition of National Medical Assistant Day, Program Coordinator Brenda Hannah, and Instructor Luis Fernandez, M.D.  joined Tampa's M.A students for a lunch-and-learn session. During this session, students reflected on the skills they have learned and reviewed performance standards essential to the profession.  Dean of Academic Affairs, Dr. Karen Habblitz, also joined to honor students for their accomplishments thus far in the studies.