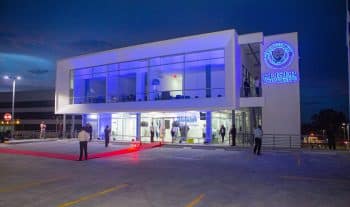 Last week, Dr. Keiser traveled to Managua, Nicaragua for the ribbon cutting ceremony of our newly constructed 30,000 square foot building, which will be home to Keiser University's 3,000 student strong Language Institute. Campus President, Mathew Anderson, welcomed many guests for the grand opening of this academic center, which comprises 28 classrooms specially designed to provide a modern and comfortable educational experience for our students.
Representatives from the U.S. Embassy, including U.S. Ambassador, Kevin Sullivan, attended the event to show support for our programs. They demonstrated their interest in improving relations between Keiser University and the U.S. Embassy. The start of operations on this site is a step further and grants wider access to U.S. higher education for Nicaraguans.
Keiser University's Language Institute has just added both Bachelor's and Master's degree programs in business for adult learners. Additional support for our Latin Online Division has been implemented at this campus, as well, to assist with our ongoing growth in Central and South America. Keiser University's Latin American Campus, presently, is the largest American University in the country of Nicaragua, as well as, one of the largest American employers in Managua.
A special thanks to Mr. Kevin Sullivan, U.S. Ambassador to Nicaragua, and all diplomatic representatives for sharing this milestone with us.