Keiser University Chancellor Shares Distance Learning Insights with Fox News Viewers
April 13, 2020
For Immediate Release
Media Contacts
Kelli Lane / 954-235-0331 / [email protected]
Suzi McCreery / 561-301-9583 / [email protected]
­­
FOR IMMEDIATE RELEASE
Keiser University Chancellor Shares Distance Learning Insights with Fox News Viewers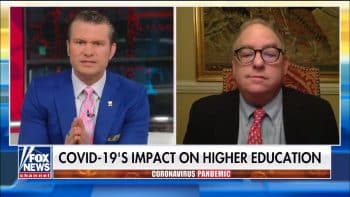 Tallahassee, Florida – April 2020 Dr. Arthur Keiser, Chancellor of Keiser University, recently shared insights relating to the growing importance of distance learning opportunities with Fox News viewers. To view the segment, please visit here.
During an interview with anchor Pete Hegseth, Keiser weighed in relating to the dramatic demand for online learning resources as a result of COVID19. While sharing Keiser University's role as a pioneer in online education since 1998, Keiser credited much of the university's success toward the importance the institution places on small online classes and meaningful interactions between students and faculty members.
With a robust learning platform and multiple degree options to choose from, Keiser University was recently named to the 2020 list of top schools in the country for online learning. Keiser took the No. 26 spot on the ranking which was produced by TheBestSchools.org and ranked the top 50 schools in the U.S. by their online education portfolio.
One of the three private universities in the state of Florida to make the list, Keiser University earned high marks as a result of the more than 60 online degree programs available, including 30 bachelor's degrees. The school also scored well due to online amenities such as the English Help Center, the Online Writing Lab (OWL), and its virtual help desk. The 2020 report was produced using information from the US Department of Education's National Center for Education Statistics' Integrated Postsecondary Education Data System (IPEDS). In addition to IPEDS data, consideration was given to numerous factors including an analysis of academic excellence, strength of faculty scholarship, tuition costs/financial aid, range of online bachelor's degree programs, and strength of online instruction.
About Keiser University
Keiser University is a private, not-for-profit university, serving nearly 20,000 students and employing 3,800 faculty and staff members. Co-founded in 1977 by Chancellor Arthur Keiser, Ph.D., and Evelyn Keiser, the university currently offers more than 100 degrees at 21 Florida campuses, as well as online and at two international sites.
Keiser University is accredited by the Southern Association of Colleges and Schools Commission on Colleges as a level VI institution to award certificates and degrees at the associate, baccalaureate, masters, specialist, and doctoral levels. For additional information regarding Keiser University, visit www.keiseruniversity.edu