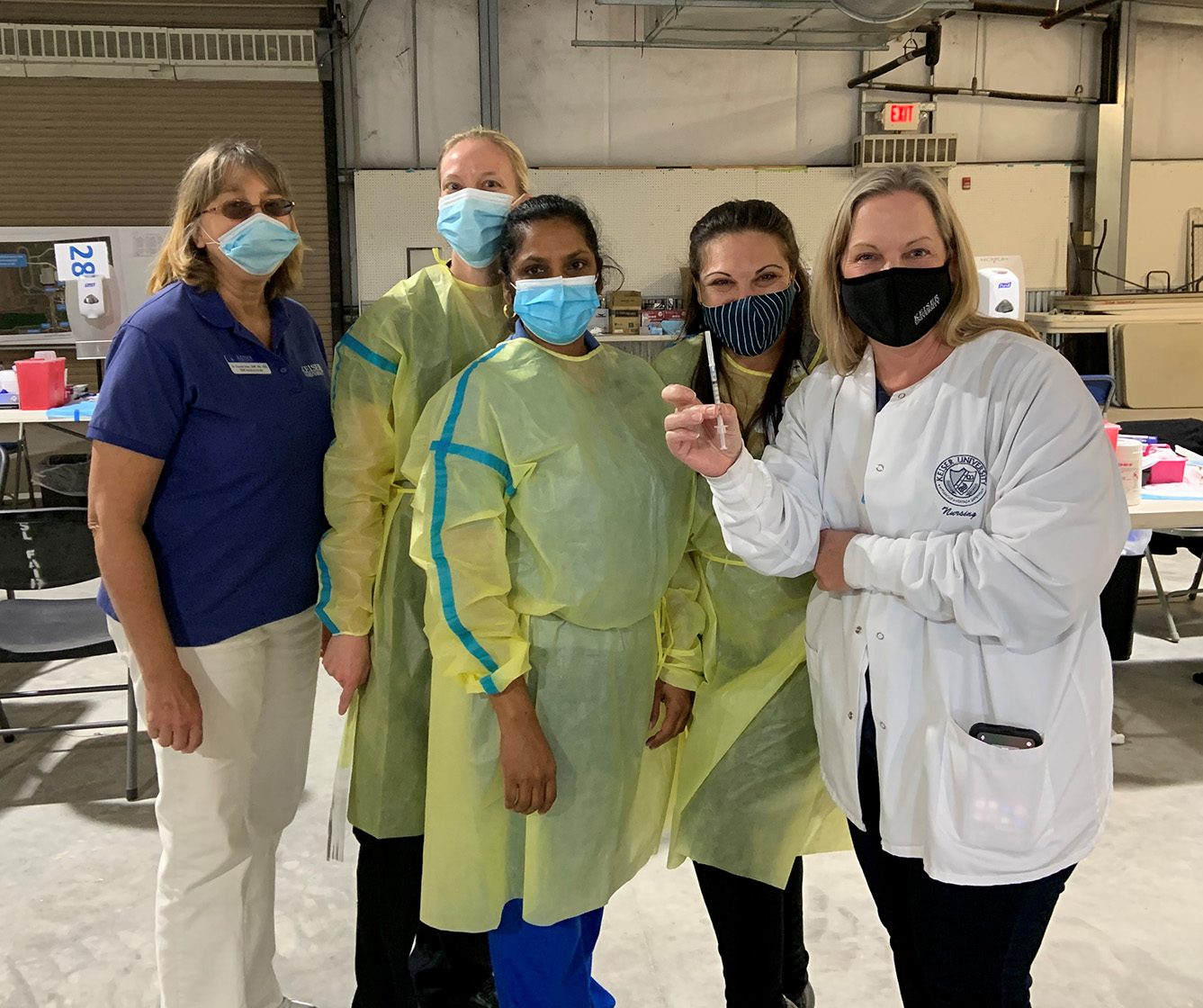 Keiser University Port St. Lucie Nursing Students Assist with COVID Vaccines
February 211, 2021
Media Contacts:
Jeff LaLiberte / 954-821-3986 / [email protected]
Suzi McCreery / 561-301-9583 / [email protected]
Keiser University Port St. Lucie Nursing Students Assist with COVID Vaccines
PORT ST. LUCIE, Fla.— Nursing students from Keiser University Port St. Lucie are on the frontlines of COVID-19 recovery administering lifesaving vaccinations in St. Lucie and Martin Counties.
"At this critical point in the pandemic, Florida's nurses and healthcare workers are now more important than ever," said Belinda Keiser, Vice Chancellor of Community Relations and Student Advancement at Keiser University. "Nursing students and graduates from Keiser University, along with other independent colleges and universities in Florida, are on the frontline providing lifesaving assistance and critical support to healthcare teams."
In January, health officials from the Florida Department of Health in St. Lucie and Martin Counties reached out to Keiser's Port St. Lucie campus for assistance. Within a week, more than 20 Keiser nursing students were working with state health officials in various capacities at vaccination sites. The students are involved in pre-vaccination screenings and education, and post-vaccination observation.
In Martin County, some Keiser students are administering second doses of the vaccine to provide relief to professional healthcare workers. Only students who have successfully completed pharmacology courses are approved to deliver vaccinations following additional training from the Department of Health.
"We are delighted to assist with this important effort," said Maureen Harry, Nursing Program Director at Keiser University Port St. Lucie. "Helping fellow community members during the pandemic reminds us of why we chose to become nurses. It's our privilege to serve our community and to give back."
In recent weeks, states throughout the country have requested assistance from nursing students, medical assistants, and first responders to help in vaccination efforts to free up healthcare workers battling the pandemic. In addition to assisting in their communities, the volunteer work gives Keiser University students a firsthand experience in pandemic recovery operations.
As the number one producer of nurses in Florida, Keiser University nursing graduates throughout the state are engaged in similar work. In addition to Port St. Lucie, Keiser students are currently volunteering at vaccination sites in Lakeland and will soon be volunteering in West Palm Beach as well.
"We recognize and applaud the efforts of Florida's leaders and healthcare workers and are honored to join them in this endeavor," said Keiser. "Together, with our community partners throughout the state, we are dedicated to fighting for healthy communities and a robust economy."
In Martin and St. Lucie Counties, Keiser students will be lending a hand for at least the next six weeks. Vaccination events in Martin and St. Lucie Counties change frequently. For more information about how you can get vaccinated, visit: http://martin.floridahealth.gov/ for Martin County and http://stlucie.floridahealth.gov/ for St. Lucie County.
About Keiser University
Keiser University is a private, not-for-profit university, serving nearly 20,000 students and employing 3,800 faculty and staff members. Co-founded in 1977 by Chancellor Arthur Keiser, Ph.D., the university currently offers more than 100 degrees at 21 Florida campuses, as well as online and at two international sites.
Keiser University is accredited by the Southern Association of Colleges and Schools Commission on Colleges as a level VI institution to award certificates and degrees at the associate, baccalaureate, masters, specialist