Fort Myers Campus hosted a Welcome Week PTK Pancake Breakfast / Dinner for new and returning students.  Breakfast is the most important meal of the day and it was a great way to kick off the new semester.  PTK information was handed out to interested students eager to learn about this amazing honor society. The pancake breakfast was the perfect time for the kick-off of the PTK Book Drive.  All the festivities were repeated again in the evening as students came to campus.
Fort Myers Campus hosted a Welcome Back SGA BBQ. Grill King Martin in Financial Aid cooked over 350 Hot Dogs for this festive celebration.  The BBQ is a great way for new students to get to know their fellow classmates and faculty.  It is also fun for the returning students to have a break from their studies.  The BBQ theme was repeated in the evening as not to leave out anyone.  Welcome Week sure is exciting on the Fort Myers Campus.  
During Welcome Week at Fort Myers campus, several community organizations were invited to come to campus and provide resources for students.  Destiny Diaper Bank supports student moms that are enrolled and attending an educational facility with 80% attendance each month.  If approved, they will receive diapers, wipes, each month and also be invited to Mom's Night Out Dinner.  Lee County Housing Authority provides resources for students about various programs and services they offer for affordable housing in Lee County and the surrounding area.  Commuter Services of Southwest Florida is a program of the Florida Department of Transportation, serving travelers who live or work in the 12-county region of Southwest Florida. They work with universities & businesses to help their students / employees find a better way to get to school / work than driving by themselves. Commuter Services also works with local governments and transportation partners to help build better communities that offer a wider range of transportation choices – like bicycling and walking, and better accessibility for carpools, vanpools, or transit services.  Having resource tables on campus helps promote awareness of what services are found in the local community.  Keiser University Fort Myers has also developed several partnerships with the various organizations that come to campus.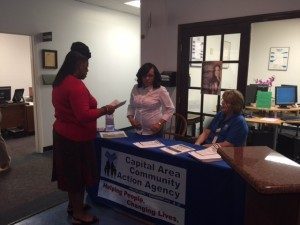 Capital Area Community Agency hosted a table at the Keiser University Tallahassee campus to welcome students back and provide information on additional resources to help students in need, such as daycare, transportation, etc.
Keiser University's Jacksonville campus conducts a Library Orientation for the Students each term. For the Intro class, the Librarians begin with basic library instruction including login information and navigation of the library's website, www.keiserlibrary.com .  At the end of the presentation the students are divided into teams of 2-3, depending on the class size, each team is given a set of instructions, each with different search keywords, but with the same search strategy steps.  The first team to correctly complete the database search, which includes finding the APA citation format, wins a prize!  On this particular occasion, everyone received something out of the prize bucket, but were given the choice of prize in the order they finished.  This exercise is always a fun way to reinforce the material taught and gives immediate, practical, hands-on experience to the students.
Gitta Sapiano kicked off the 2015-2016 school year by hosting a welcome back breakfast for the teachers at North Miami Senior High. Keiser University Pembroke Pines is now partnered with the local high school and plan to host field trips and teacher work days during CEU's that are technology based.