Keiser University Graduate School is Located in Beautiful Florida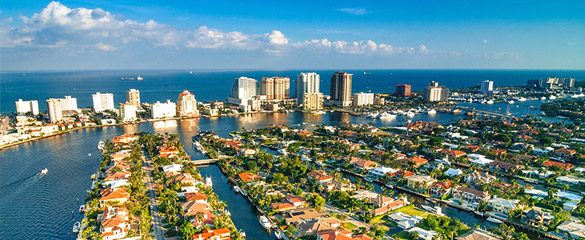 The Graduate School of Keiser University is located in Ft. Lauderdale, Florida.  Ft. Lauderdale  is conveniently located between Miami and West Palm Beach  in Florida's southeast region.  The area has 1,211 square-miles of tropical landscape and 23 miles of Atlantic Coast beaches, with an average temperature of 83 degrees, making the Fort Lauderdale area a desirable place to live and work. The area is home to 1.6 million residents, and another 3.4 million reside between Miami and West Palm Beach.
Golfing, fishing, and boating are among the many leisure activities enjoyed by both visitors and residents. Several cultural, historic, and scientific resource facilities are located in the Fort Lauderdale area including the Broward Center for the Performing Arts.
Broward County has the nation's largest fully accredited school system, eleven colleges and universities, and four career and technical centers. Close to 40 hospitals serve the medical needs of our community.
This canal-laced city is a far cry from its spring break party image of the past. Following renovation and renewal, upscale stores and restaurants have replaced fast-food stands and T-shirt shops. But the stretch of gorgeous beaches, great swimming, nearly year-round sunshine and close-to-ideal climate are the city's biggest draws. For great shopping and dining, stroll down Las Olas Boulevard, which is lined with top-notch boutiques and restaurants. Nightlife lovers flock to the nearby Riverfront area, packed with bars and free entertainment. The city has a host of family-friendly options, such as Everglades Holiday Park and the Museum of Discovery and Science. With the network of canals and waterways, boats are part of the Lauderdale lifestyle, and tourists can get in on the act by renting a boat or hailing a water taxi. There's a lot to do here, but be sure to spend some quiet time just soaking up the sun or strolling along the beach between your studies.
Located at the center of the tri-county region, the Ft. Lauderdale area offers a wide array of business opportunities for growth-oriented service, distribution, manufacturing, retail and construction firms.  From software technology to international trade, from financial services to tourism, Greater Fort Lauderdale enjoys a robust, diversified business climate.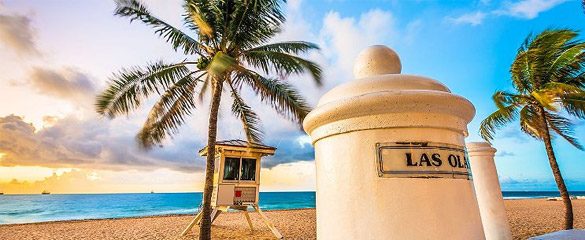 For many decades, the visitor industry has been the largest segment of Broward's economy. Last year, more than 8.7 million leisure and business travelers visited Broward, generating nearly 100,000 annual and 35,000 seasonal jobs, according to Nicki Grossman, president and CEO, Greater Fort Lauderdale Convention & Visitor's Bureau.
Greater Fort Lauderdale has a long-standing high-tech heritage, supported by strong regional organizations like the South Florida BioScience Consortium, which promotes biotechnology, and InternetCoast, which focus on communication technology.
With more than 300 miles of waterways, marinas and marine manufacturing and repair facilities, Greater Fort Lauderdale is a world-renowned port of call for the yachting industry and home to the world's largest boat show. Frank Herhold, executive director, Marine Industries Association of South Florida, notes that Broward County generates almost one-third of Florida's marine sales. "There's a long-standing saying in the marine industry that if you can't find something in Fort Lauderdale, it's not findable," he says.
Within the marine industry, Broward caters to the "mega-yacht" market. More than 1,400 vessels over 80 feet visit the county each year on their way to the Caribbean or other destinations around the world. "Boating is an important part of the Broward economy, as well as the lifestyle of South Florida," says Herhold.
Financial services are another vital contributor to Greater Fort Lauderdale's prosperity. A recent "State Farm Fiscally Fit Cities Report," the first study of its kind, ranked Fort Lauderdale as one of the top 10 most 'fiscally fit' cities in America based on three primary categories: investments, insurance and quality of life.
Information provided by the Greater Ft. Lauderdale Chamber of Commerce and the Greater Ft. Lauderdale Convention and Visitors' Bureau.  Photographs are courtesy of the Greater Ft. Lauderdale Convention and Visitors Bureau.
Area Resources