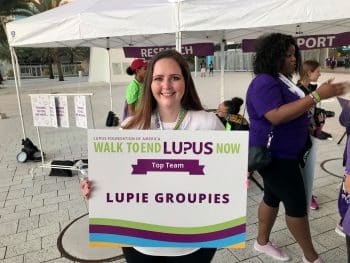 Keiser University West Palm Beach campus Writing Studio Coordinator Dr. Kristin Brittain is shedding light on an important cause by sharing her personal story and serving as an ambassador for the Lupus Foundation of America's Florida Chapter.
"As an individual living with this disease, the Lupus Foundation of America has been an organization that has been vital within my life, as it has coordinated extensive research, education, awareness, and support initiatives. My role as Ambassador for the foundation's Florida chapter has provided opportunities to spearhead awareness and education campaigns. I'm also thankful to have had the opportunity to speak with and request funding from members of congress and the senate," said Brittain, who encourages supporters to join the nationwide effort by learning more and donating to the cause by visiting this link.
More pervasive and severe than many realize since many of its symptoms can be invisible, Lupus is a systemic autoimmune disease that occurs when the body's immune system attacks its own tissues and organs. Inflammation caused by the disease can affect the joints, skin, kidneys, blood cells, brain, heart, lungs, and more.