Scott Carter, a  Flagship campus Mathematics and Statistics professor who's fondly known around campus as a numbers whiz recently weighed in on the odds of winning this week's Powerball and what one could do with the windfall.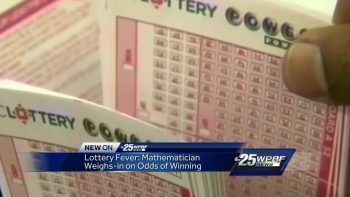 Carter shared that after overcoming odds of 1 in 292,201,338, one lucky Powerball winner could:


Enjoy an average yearly installment payment of $7,675,000 for 30 years




Avoid paying a state income tax, as Florida does not have one




Revel in the opportunity to purchase items such as these with the amount of approximately 121 million that they'd pocket after taxesif they'd chosen the lump sum:




60 million for a top Palm Beach Estate




Purchase a new Tesla every day for a year




Enjoy a $1000 meal every day for a year




Fly round trip anywhere in the world for an overnight experience with a friend once a week for a year




Enjoy an all-inclusive 7-day vacation with a friend once a month for a year




Still enjoy around 17 million left in the bank for a rainy day





Carter shared that the federal tax bill on a cash payout of 200 million would be about 79.2 million. 


He also cautioned players to plan by reminding them of a recent report from the National Endowment for Financial Education stating that approximately seventy percent of people who win a lottery or get a big windfall end up broke within a few years.




About Professor Scott Carter


Carter holds a Master's degree in Mathematics from Missouri State University.


He has taught all levels of mathematics coursework at the undergraduate level for Keiser University and other state colleges in Florida, North Carolina and Missouri since 2000.