The Fort Myers SOTA Club Donates To Toys For Tots: 
The Fort Myers SOTA Club raised over $150 to purchase toys for The Marine "Toys for Tots" drop box located on campus.  OTA Instructor Ms. Cindy Mackey turned the shopping trip into a valuable education lesson.  Students first decided how much money they wanted to spend per age group.  They then went about selecting toys that encourage developmental growth.  The ultimate success of the "Toys for Tots" campaign depends on the support of the local community and the generosity of the people who donate toys. The Marine Toys for Tots Foundation, an IRS recognized 501(c)(3) not-for-profit charity, is the authorized fundraising and support organization for the "Toys for Tots" program.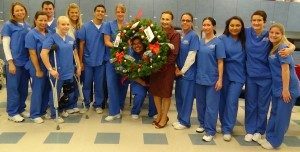 Keiser University Fort Myers Donates Wreath To Goodwill:  
The Fort Myers Campus & SOTA Club recently donated a festive holiday wreath for Goodwill Industries of Southwest Florida "Tux and Trees" gala as part of the "Festival of Trees" event held annually in the historic Fort Myers River District.  From angels to nutcrackers, butterflies to birds, and football helmets to fishing lures, you're likely to see almost anything adorning the beautiful and creative trees at the Festival of Trees.  The Festival is actually several great events rolled into one. The Festival of Trees is a showcase of beautifully decorated trees. The Children's Holiday Workshop at the Family Fun Day event is a day of arts and crafts for the kids. The Tux & Trees Gala is a glamorous, exciting and philanthropic live benefit auction.  The Keiser University Wreath was entitled, "Holiday Escape" and included a two night stay at the Holiday Inn Express Forum that was generously donated by the resort property.

The Fort Myers OTA Students Travel To Discovery Village:
The OTA students in the Therapeutic Media class had the  opportunity to practice skills learned to run groups and use therapeutic use of self! They took a field trip to Discovery Village, a world-class senior living community located in the The Forum. The results were beautiful and the residents were able to have a seasonal decoration for their apartments.
Special Presentation To Promote "Skill Topics" on the Fort Myers Campus: 
PTK President Roy Franco, and PTK member Alex Jimenez spoke to various general education classes about "Test Taking and Study Skills" on the Fort Myers campus.  The objective was to expose new students in week two of their courses to various academic "skills topics" in their first semester at Keiser.  The initiative was facilitated by the Academic Dean's Officer under the leadership of Dean Knox.  The classes with the most students enrolled were selected for the special presentation.