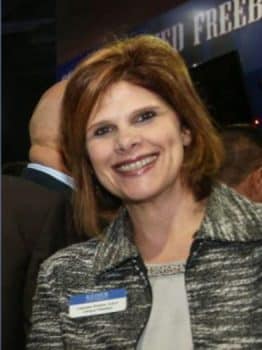 Name, title, and years with KU?
Lisamarie Winslow, Campus President at the KU Jacksonville campus. I am in my 7th year working for Keiser University and 18th or 19th working with Keiser University.
Describe your role at KU?
I provide guidance and support to my faculty and staff so they may support our students to achieve their academic and career goals. I have direct oversight of the campus and everything to do with the facility, a 66,000 square foot facility; I manage just over 100 faculty and staff members and the well-being of about 700.
What makes you successful in your role?
This is a loaded question.  I think when you look at the job description for the role of campus president (CP) and then compare it to the diverse personalities of each KU campus, I would have to say the primary key to success is embracing change and diversity in just about everything a campus president does each and every day.  There is a skill set that is required, coming into the role, which involves a high level of critical thinking, ability to make decisions timely and the ability to wear many hats.
What does a typical day look like for you?
What I love about my role is that there is rarely a "typical" day.  When you deal with so many different types of people, all with very unique agenda's, especially our students, you have to be flexible.  While by nature I am a planner, I have the ability to adapt and change course pretty quickly.  Just get it done is my mantra.  My directors know that means get it right the first time and close the loop with CP!
Do you feel as a woman, you approach situations with a different perspective? Give an example.
A different perspective then a man? Then absolutely, yes.  Gender, life experiences, being a parent, all these things influence your perspective.  What gender should not influence, is the outside perception of your ability to succeed just because of your gender.
Tell us a little about life outside of KU; do you have a family, pets, etc.?
My entire professional career has been in higher education in some form or fashion.  My desire to contribute in a positive manner to the community in which I live, to my family and my employer drives me each and every day and makes me proud of who I am and what I do.  I have a beautiful family that makes many sacrifices for my commitment to Keiser University and higher education; for this I am blessed among many more blessings.  I have a wonderful husband of 20 years and 3 exhausting and beautiful children, Tobin 16, Aiden 13, Kaitlin 10 and Bear 4 (our golden retriever).  Outside of KU I am either at an ice hockey rink, on a soccer field, at a chorus event, a doctor's appointment, and occasionally the golf course or a spa!  My husband and I recently purchased another Harley and I plan on finding/making time to ride together!
Do you prefer Marvel or DC comics?
Whoever owns Batman!