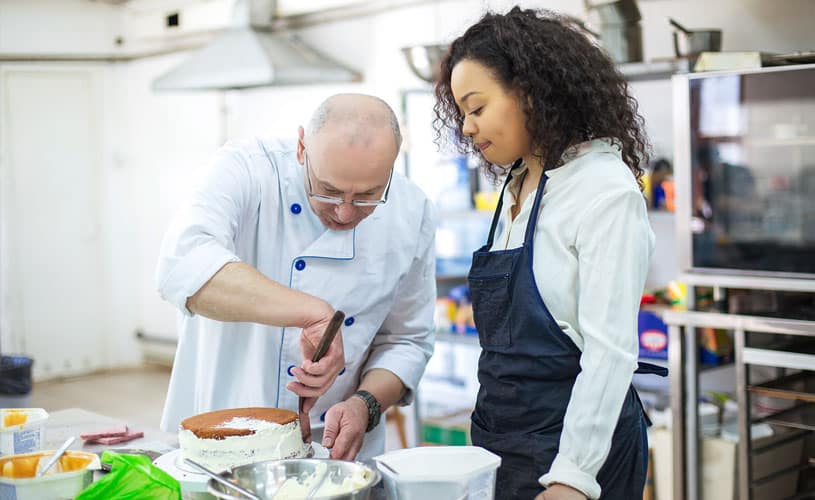 Start Your Culinary Career at Keiser University
Keiser University has been providing quality hands-on education in the culinary field for decades. Whether your goal is to prepare for a new career or advance with your current employer, kickstart your career with Keiser University. When you enroll, you will be a part of a dynamic community with thorough coursework designed to prepare you for your goals. The culinary field is very hands-on, and Keiser works to support theory with practice for the ultimate learning experience. Begin or advance your culinary education today. Explore our degree programs below and contact us to request information.
Degrees & Programs: Begin Your Path Towards Becoming a Culinary Professional
Associate's Degrees
Associate of Science in Culinary Arts (A.S.)
Hungry for a career in Culinary Arts? Keiser University offers an Associate of Science program featuring a comprehensive curriculum. Students will receive hands-on training in food knowledge, preparation, handling, and cooking from the basic level to advanced. Laboratory courses will ensure students are placing their knowledge to the test with experience.
Learn More
Associate of Science in Baking and Pastry Arts (A.S.)
Have you ever seen a delicious pastry or dessert and wished you could create it yourself? Keiser University's Associate of Science in Baking and Pastry Arts is dedicated to teaching students the ins and outs of this delicious food group. Enrollees will learn the science of producing bread, yeasts, cakes, frozen desserts, candies, cookies, etc. A solid foundation of foodservice sanitation, supervision and nutrition is also a cornerstone of the curriculum.
Learn More