Active Duty
Prepare for your new mission! Complete your degree while serving your country and prepare for your final deployment: transition to the civilian sector. Keiser University is here to help serve our military students by helping them achieve their educational goals. We listen to our students and implement their feedback to enhance both current and future military students' educational experience.
Active Duty members must speak with their Educational Service Officer (ESO) or counselor within their respective branch of service prior to enrolling.
All U.S. military families have unlimited access to Tutor.com provided by the Department of Defense.
Military service members and their dependents around the world can work with a certified, professional tutor online 24/7 to get help with homework, studying, test prep, resume writing and more. ( http://www.tutor.com/military-programs )
The Free Application For Federal Student Aid (FAFSA), is due by the end of the first week of the semester the student Begins Classes in. Students interested in federal funding must complete a FASFA Form to apply for college financial aid and meet with their respective campus Financial Planning specialists.
Request More Information
Undergraduate Transfer of Credit Policy
For students enrolling at Keiser University, credit for courses or degrees completed at another institution is subject to approval by the Dean of Academic Affairs. These courses or degrees must be similar in content and duration to those offered in the program for which an applicant has applied.
Active duty, reservists, and National Guard service members who are students can complete at a minimum 25% of a program at any time through the University and graduate (after meeting all degree requirements). Please see catalog for additional information: https://www.keiseruniversity.edu/catalog/
College Level Examination (CLEP) & DANTES Subject Standardized Tests (DSST) Policy
College credit may be awarded for acceptable scores at or above the 50th percentile on college sophomore norms of the College Level Examination Program (CLEP) of the College Entrance
Examination Board. A maximum of 18 semester hours of credit may be awarded, based on General Examination or Subject Examination scores & 18 semester hours of credit may be awarded, based on DSST scores. Please see catalog for additional information: https://www.keiseruniversity.edu/catalog/
Obtain an Official or Unofficial Military Transcript
Army, Coast Guard, Marine Corps, and Navy: Active Duty, Reserve and Veterans.
https://jst.doded.mil/smart/dodMandatoryBannerForm/submit.do
Keiser University will consider military training for college credit. Please obtain a copy of your military transcript to be evaluated by visiting this website.
Air Force members should contact the Community College of the Air Force for transcripts. You can order an official transcript through the Air University or the CCAF Online Transcript System.
Scholarships
Keiser University is proud to offer scholarships to qualified Active Duty personnel, Veterans, and military dependents. Please contact your Financial Aid representative for an application. There are many opportunities for military scholarships for Active Duty military, veterans, and military dependents. This is not an inclusive list but one that should get you started in the right direction if interested in applying for scholarships.
TA Funding
Tuition Assistance funds are a unique, distinct source of financial aid available to eligible Service members, TA is used as a first payer. Keiser University cannot guarantee Service members eligibility to receive TA funding as those decisions are made between the student and their respective branch of service.
Active Duty students MUST meet with their respective branch of service to ensure TA funding is available and learn about the application process and responsibility of the student before they enroll in any class. This includes each Military Service's education portal and Education Service Office (if applicable) for additional information and regulatory requirements.
Student Veterans of America ( SVA )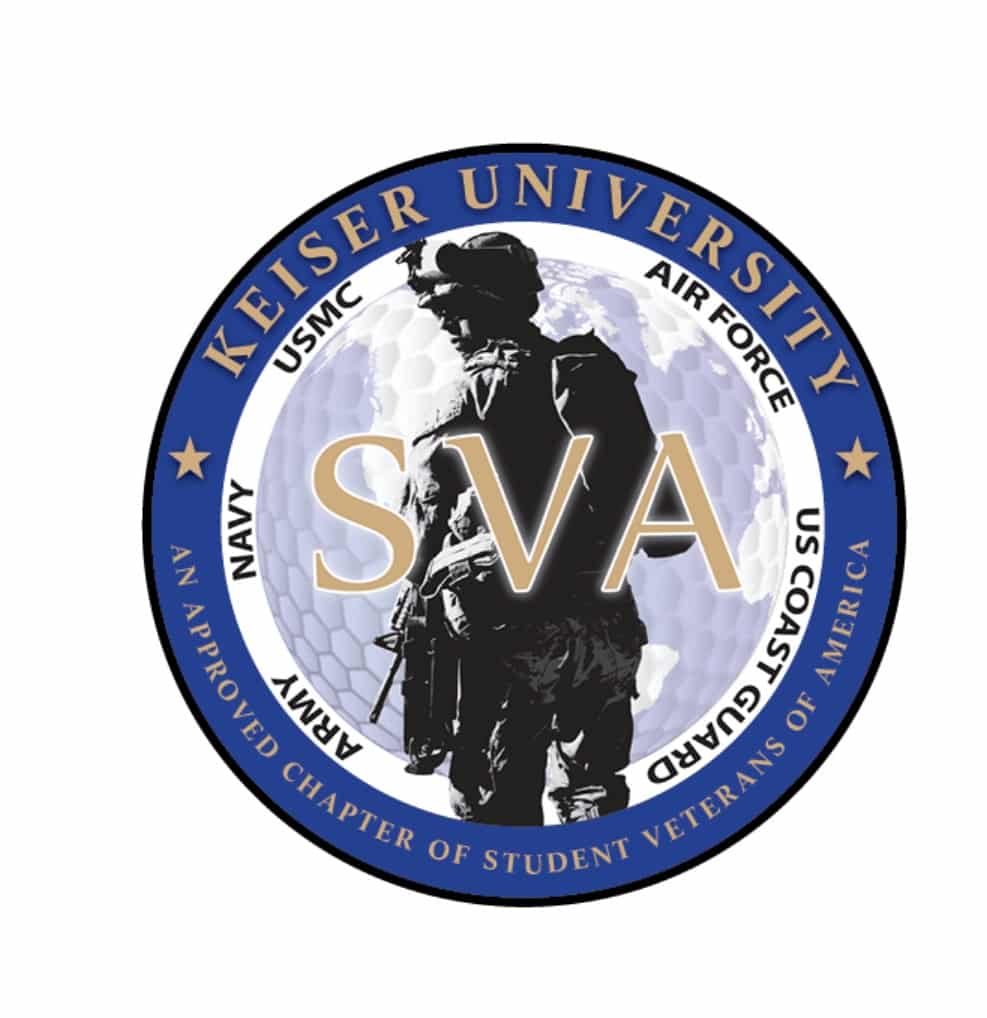 Campuses with SVA Chapters
College of Golf
Clearwater
Ft. Lauderdale
Ft. Myers
Jacksonville
Lakeland
Melbourne
Orlando
Patrick Space Force Base
Pembroke Pines
Port St. Lucie
Tallahassee
Tampa
For more information, please visit the Student Veterans of America Website.