Biomedical Sciences, BS (Equine Studies)

This program is available in the following Florida campuses: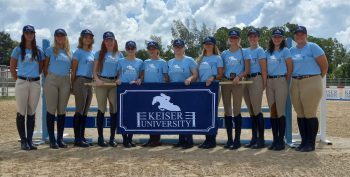 The Equine Studies concentration offers graduates a well-rounded educational opportunity necessary to be successful in the equine industry, while preparing students for admission to graduate programs in Veterinarian Medicine. Along with the necessary pre-vet curriculum, the Equine Studies concentration offers students the opportunity to develop hands-on experience in the following areas:
Handling horses and horse training
Understanding their genetic composition
Equine nutrition
Health and disease monitoring
Plus, a plethora of management and training opportunities
Enjoy beautiful riding facilities while earning your Bachelor's degree!
Students in the equestrian studies will apply their education in shadowing equine professionals such as veterinarians, farriers, and trainers during their internship courses.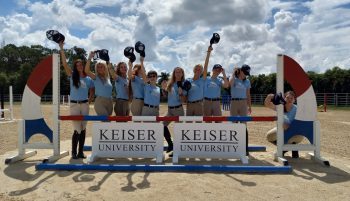 Program Outline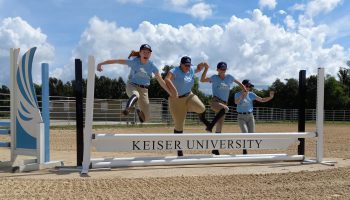 Follow Keiser Equestrian Facebook


 Follow Keiser Equestrian Videos
Equine Studies – Riding and Internship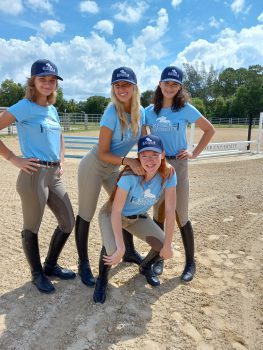 The Equine Studies concentration courses includes six courses in the B.S. Biomedical Science curriculum. Two of those courses include riding time as the students will be taught basic walk/trot/canter, ground work, advanced horse care, management, and jumping techniques. Additionally, students will also have the opportunity to perform two courses of internship at various local facilities and/or shadowing veterinarians allowing them to take their learned education and apply into practice.  Keiser University's equine studies are held at the University's multi-million dollar, state of the art facility, located in Loxahatchee, FL. The non-equine concentration courses are held at the Keiser Flagship Campus, in West Palm Beach, FL, as well as some online offerings. Once the B.S. in Biomedical Sciences with Equine Studies Concentration program is complete, students will have the necessary credentials to apply for post-graduate work in veterinary medicine.
Equestrian Club
Students enrolled in the Bachelor of Science in Biomedical Science with Equine Studies Concentration program are also eligible to be a member of our equestrian club. The club practices are held twice a week at the University's multi-million dollar, state of the art facility, located in Loxahatchee, FL. The student equestrians will be taught hunt seat riding and will have the opportunity to take part in local competitions. Being a member of the equestrian club is not required, but is available to enhance the students' experiences in the equine field.