July 12, 2019
For Immediate Release
Media Contacts
Kelli Lane / 954-235-0331 / [email protected]
Suzi McCreery / 561-301-9583 / [email protected]
FOR IMMEDIATE RELEASE
 New York Mets Choose Keiser University's Port St. Lucie Campus as 2019 Draft Headquarters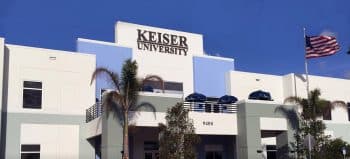 Port St. Lucie, FL — June 2019 — Major league baseball team, the New York Mets, with long ties to the Treasure Coast and Keiser University through the local organization, selected the Port St. Lucie campus as its 2019 draft headquarters. The first week of June is one of the most anticipated weeks for many high school and college baseball players. Years of hard work, practice, and tournaments all come down to receiving the one phone call that every athlete dreams of receiving. The 'war room' is where managers, coaches and scouts spend hours analyzing scouting reports, discussing deals and spending many sleepless nights reviewing statistics to ensure that they are making the best business decision for their club. Teams measure, test and judge prospects in a number of ways. Draft prep often focuses on measurables that MLB teams use to rank prospects. The higher you're drafted, the greater your chance for making the major league team leading to a more lucrative career.
"We were contacted by the local and national Mets organizations back in March to host the Mets War Room. They found Keiser University to be well-equipped to meet their robust IT, spatial, and security requirements and The Mets "war room" was immediately established," stated Dr. Arthur Keiser, Chancellor.
"As long supporters of the St. Lucie Mets and having a nationally ranked collegiate baseball team based out of KU's Flagship campus in West Palm Beach, this unique opportunity to serve as the draft headquarters for the New York Mets was a true honor," said Leslie Kristof, MBA, Port St. Lucie campus president.
National media has reported that The New York Mets had one of the most talked about draft classes in 2019. Some even report the Mets got "arguably the best swing in the draft" and, "a first-round pick in the third round."
Their top 10 picks were as follows and the Mets overall draft list includes nine players with ties to Florida:
Round 1: Brett Baty, 3B, Lake Travis High School (Austin, Texas)
Round 2: Josh Wolf, RHP, St. Thomas High School (Houston, Texas)
Round 3: Matthew Allan, RHP, Seminole High School (Sanford Florida)
Round 4: Jake Mangum, CF, Mississippi State (MS)
Round 5: Nathan Jones, RHP, Northwestern State (LA)
Round 6: Zach Ashford, CF, Fresno State (CA)
Round 7: Luke Ritter, 2B, Wichita State (KS)
Round 8: Conner Wollersheim, LHP, Kent State (OH)
Round 9: Joe Genord, 1B, South Florida (FL)
Round 10: Scott Ota, RF, University of Illinois at Chicago (IL)
Keiser University's Port St. Lucie campus has called the Treasure Coast community home for over 20 years. Today, the campus serves approximately 800 students, thousands of working alumni, and provides employment to 100 area residents. To view the video, please click here.
About Keiser University
Keiser University is a private, not-for-profit university, serving nearly 20,000 students and employing 3,800 faculty and staff members. Co-founded in 1977 by Chancellor Arthur Keiser, Ph.D. and Evelyn Keiser. Keiser University is accredited by the Southern Association of Colleges and Schools Commission on Colleges as a level VI institution to award certificates and degrees at the associate, baccalaureate, masters, specialist, and doctoral levels. More than 100 degrees at 21 Florida campuses offered, as well as, online learning, and international sites.