Keiser University's College of Chiropractic Medicine is Presented $100,000 Donation for Spinal Research by Dr. James Cox
January 21, 2021
For Immediate Release
Media Contacts
Jeff LaLiberte / 954-821-3986 / [email protected]
Suzi McCreery / 561-301-9583 / [email protected]
Keiser University's College of Chiropractic Medicine is Presented $100,000 Donation for Spinal Research by Dr. James Cox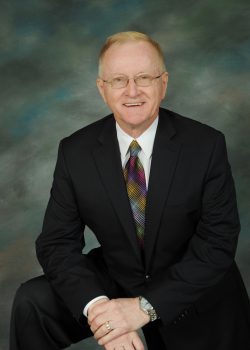 Dr. James Cox
West Palm Beach, Florida – January 2021 – Keiser University's College of Chiropractic Medicine (KUCCM) thanks Dr. James M. Cox for a $100,000 donation toward spinal research.
"We are thankful for the ongoing support from Dr. Cox, as his generosity and world-renowned expertise plays a valuable role in advancing research in the field of Chiropractic Medicine, and community partnerships such as this provide outstanding and unique opportunities for our students and our community as well," said campus president Kimberly Lea. Designated to foster chiropractic spinal research, specifically the effects of Cox Technic spinal manipulation, the proceeds will provide the KUCCM's Research Department the opportunity to pursue new and complete current research studies which include the promising non-surgical chiropractic treatment of spinal stenosis and post-surgical back and neck pain.
Having personally and professionally donated to chiropractic research financially through his textbook royalties, speaking honoraria, and more, Dr. Cox has also sought matching funds to complete pilot projects that lead to larger research grants and recognition of insightful spinal research. Dr. Cox's view of this financial donation is its role as seed money which others are challenged to match and to elevate to shed light on spinal research and pain-relieving conservative treatments.
With experienced leaders including Dr. Michael Wiles, Dean of the College of Chiropractic Medicine, Dr. Maruti Gudavalli who instructs and leads research efforts, and Dr. Ralph Kruse who instructs and serves as the Keiser University Spine Care Clinic's Attending Clinician, the Doctor of Chiropractic program at Keiser University is a rigorous professional program consisting of ten semesters of study, which are completed over 40 months.  It combines traditional lectures with small group learning, weekly conferences and seminars, laboratory and experiential sessions, and clinical training opportunities at several sites.  All coursework includes case-based relevancy for chiropractic practice as a portal-of-entry profession dedicated to excellence in spine care. To learn more about Keiser University's College of Chiropractic Medicine, please visit: https://www.keiseruniversity.edu/doctor-chiropractic-dc
About Keiser University
Keiser University is a private, not-for-profit university, serving nearly 20,000 students and employing 3,800 faculty and staff members. Co-founded in 1977 by Chancellor Arthur Keiser, Ph.D., and Evelyn Keiser, the university currently offers more than 100 degrees at 21 Florida campuses, as well as online and at two international sites.
Keiser University is accredited by the Southern Association of Colleges and Schools Commission on Colleges as a level VI institution to award certificates and degrees at the associate, baccalaureate, masters, specialist, and doctoral levels. For additional information regarding Keiser University, visit www.keiseruniversity.edu.