Fort Myers Sports Medicine & Fitness Technology Students Get First- Hand Look at Knee Replacement
In the Sports Medicine & Fitness Technology classroom, students from both the Associate and Bachelor of Science program, as well as the Anatomy & Physiology class got to experience a first-hand look at a true knee replacement from x-rays, observation, and discussion of procedures for strengthening and range of motion. Dr. Bochette, Professor Williams, and Dr. Brundell were able to converse with students and with the patient, Kathy Brundell, in an open forum setting to show what students may experience in their future careers.
Fort Myers Occupational Therapy Assistant Students Play The Game, "Into Aging"
The Occupational Therapy Assistant students, in one of their final didactic courses that focuses on the older adult population, participated in a game called "Into Aging." The game attempts to familiarize students with the stigmas and difficulties older adults face as they progress through the various stages of the latter portion of their lives. Each student is required to take on the persona of an older adult and must travel through three life stages in which they become increasingly more dependent and experience loss of possessions, autonomy, and dignity as well as finances. The OTA faculty, with help from the campus librarians, Mary Thompson and Lisa Illium, an MA faculty, Andy Binanti, and led by the course instructor's husband, Marshall Montgomery, served as the operators of each life stage, taking on the condescending and ignorant nature that older adults often face as they are misunderstood during these periods. Although at times very funny, the game and its activities led students to feel "belittled" and "taken advantage of" and more, resulting in the main objective of the game, increased empathy for and the dispelling of myths regarding our older adult population.
Students On The Fort Myers Campus Use The Scientific Method
Students in General Biology on the Fort Myers campus used the scientific method to investigate the effects of weight and the tail and propeller lengths on the speed of descending paper helicopters. Students examined the paper helicopters, made a hypothesis, and tested it. To test their hypotheses, students performed experiments that were a collaborated effort with each student performing a specific role: measuring speed, recording rates and calculating averages, and dropping helicopters. Pictured are students measuring helicopters rate of fall.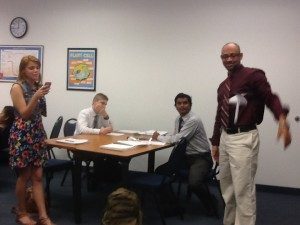 Fort Myers Student Services Host Job & Joe
Job & Joe is a chance for students, faculty and staff to come to Student Services, get a free cup of coffee & munchkin (from Dunkin Donuts) and learn about College Central, our online career website.  Each student was given a hand-out about College Central and was encouraged to get registered on the spot.  Job & Joe is a good way for students to get to know Student Services and the various services they provide.  Several students made appointments to build & develop a successful resume.