When Rene Antonio Leon, Jr. first learned about Keiser University's Bachelor of Science degree in Sport Management & Fitness Technology, the Belle Glade native knew that earning the degree would jump-start his success while also encouraging others.
Leon, now the Glades Central High School's baseball coach and the first of eight in his family to earn a bachelor's degree, recently saw his dream come to fruition at Keiser University's Flagship Campus commencement ceremony as team and family members cheer on.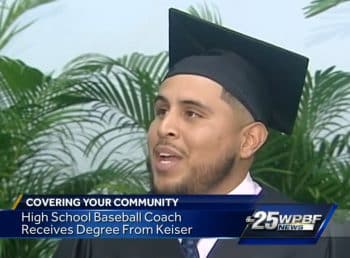 "Being a full-time baseball coach and student was difficult at times, but it made me a better man. I want to thank my baseball team for changing my life in so many ways. They are a blessing to me. I would not trade my position as coach for another in the world. When I look at my team, it motivates me to work harder in school to show them that anything is possible. All I wanted to be is a positive role model to them. They deserve everything that they accomplished this year, and a few of them now want to attend college because of the lessons I've shared," said Leon who led the team to one of their best finishes ever in first season with the most games ever won and the most independent conference wins.
"Every professor has influenced me in so many ways and Professor Harmon has been one of the biggest inspirations in my life. He has taught me so much about Sports Management and life. He is my role model. He always encourages me, supports me and helps me. I thank God for blessing me to have a professor like him. I talk about him all the time with my baseball players and the impact that he has made on my life. I've known professor Harmon for 2 1/2 years and he has never changed. He is the same loving, funny and caring professor. He treats all his students the same and I am honored to be one of them," said Leon.