In Supervision and Cost Controls class students get in the kitchen for some fun and hands-on learning. During this course, students conduct various yield tests, cooking loss tests and butcher's yield tests and record the information to calculate Edible Portion costs, selling price and profitability.
Competition team member Lisa Tower practices using the Wok in International Cuisine class. Here you can see her making Chef Keovilay's delicious Pad Thai recipe after a great demo from Chef Deivert.
At Keiser's Center for Culinary Arts, our students learn to make EVERYTHING from scratch. Here you can see veal bones with tomato paste being roasted to make veal stock, which will later be turned into a delicious demi-glace.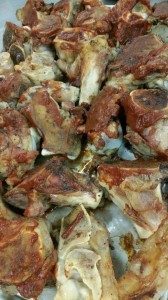 Chef Nicole Martinelli demos how to fillet fish on a beautiful whole Salmon. She later cured the salmon with beets, salt, sugar and spices for a beautiful salad for the Chaine des Rotisseurs kitchen dedication event.