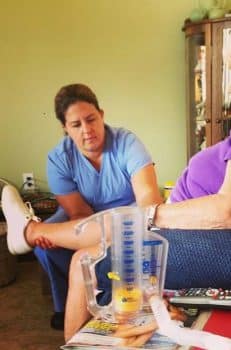 Jessica Chapman, KU Ft. Myers OTA Faculty
What do you want others to know about the OT profession:
Occupational therapy is a client-centered and holistic health profession focused on the promotion of health and well-being through meaningful occupation.
Why did you choose OT?
My best friend in high school went into cardiac arrest after an allergic reaction to a CAT scan with contrast dye and suffered complete paralysis. I was able to attend many of her rehabilitation sessions and was an eye witness to her remarkable recovery. I knew after that experience that occupational therapy profession would be the best choice.
What is your personal OT client/student success story?
I had an 18 year-old client diagnosed with Guillain-Barre, which is a rare autoimmune disorder that attacks the peripheral nervous system. When I first evaluated this client he was unable to walk or transfer and was dependent on staff and caregivers to complete his basic activities of daily living. Within a 6 week time frame this client was able to leave the rehabilitation hospital with the ability to walk around with a cane and independently care for himself in order to meet his personal goal of returning to college.
Since it is the 100th Anniversary of OT, what is your prediction for the most significant enhancement to the profession the next 100 years?
I predict that occupational therapy will be very much a part of the primary care health care setting assisting to promote health and wellness in conjunction with the primary care physician. Also, telehealth will be very much a common method of rehabilitation consultation for clients especially in health care shortage areas.
What is the most unusual adaptive device you have created?
Adaptive kitty litter scooping device that did not require the client to bend over.
What movie can you name that relates to the profession of OT?
My Beautiful Broken Brain: A 34-year old woman sustains a hemorrhagic stroke that leaves her with the inability to communicate along with many other struggles. This captivating documentary discusses her journey through the recovery process.