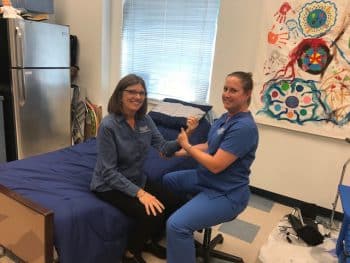 Therese Cinotto working with a student
What do you want others to know about the profession of occupational therapy (OT)?
This is an exciting, diverse profession with many opportunities now and in the future.
Why did you choose OT?
Initially I loved the diversity of the course work and the global view of OT.  Upon entering the practice, I found I really loved the interaction with all the clients and how much they appreciate the kindness, compassion and interventions provided to them.
What is your personal OT client/student success story?
One of my students, Elaine, accompanied one of my guest speakers (a hand therapist) on a mission trip to assist her in making orthotics for impoverished children after surgery.  While she missed several days of class, the real world experience of working directly with the children made a huge impact on her.
Since it is the 100th anniversary of OT, what is your prediction for the most significant enhancement to the profession the next 100 years?
I believe the profession will look back at our roots and begin incorporating more psycho-social strategies into treatment sessions.
What is the most unusual adaptive device you have created?
Honestly, I cannot remember.  Everything is practical in nature.  Especially in the environment of home care, you just make what they need to be able to carry out their functional task.
What movie can you name that relates to the profession of OT?
I love the movie Forrest Gump.  Forrest, with an intellectual disability, goes on to achieve great things in his life, and his friend, Lieutenant Dan, learns to overcome addiction and to thrive with bilateral LE amputations.
Why did you choose the profession?
I choose the profession, in part, because of the diversity of opportunities and work environments and knowing there will always be more to learn.