PEMBROKE PINES – The Pembroke Pines campus celebrated the U.S. Constitution with a week filled with daily activity which included creating cards of gratitude to our soldiers, constitution trivia, a library display of the constitution and American literature, as well as a student assembly to address the importance of the constitution.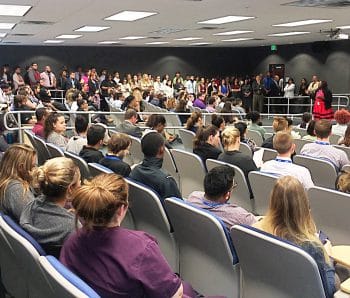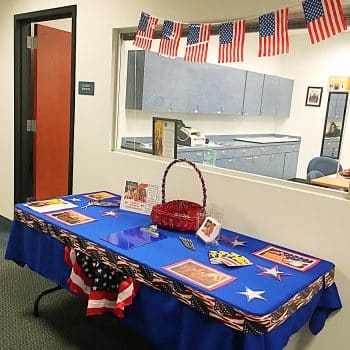 WEST PALM BEACH
Keiser University Student Services along with faculty & staff volunteers hosted a U.S. Constitution Day seminar and KU Spirit Day cook-out to educate and appreciate our students.  The YWCA and League of Women Voters were also on site for voter registration.
For the day classes, Paul Zacks, Legal Studies instructor, gave a presentation on the fifth amendment right to remain silent and presumption of innocence in criminal cases in the U.S.  He focused  on what happens in those countries who do not have a right to remain silent or a presumption of innocence. For the evening classes, Judge Robert M. Gross of Florida's Fourth District Court of Appeal spoke on some of the little known inner workings regarding the men involved in the writing of the constitution.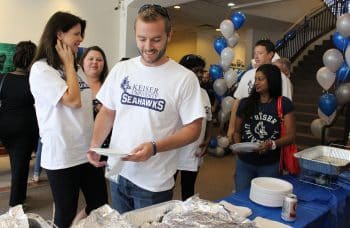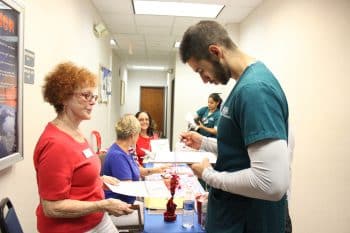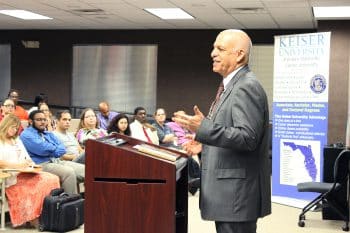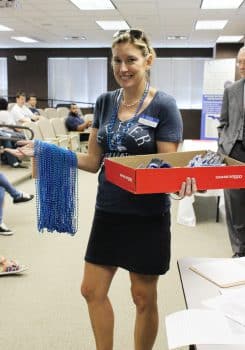 FORT LAUDERDALE
Keiser University Fort Lauderdale celebrated U.S. Constitution Week with a festive event led by Dr. Melissa Gerdes, Vice Chancellor for Student Services singing the national anthem. Campus President Rhonda Fuller introduced Mayor Jack Seiler of Fort Lauderdale who presented a proclamation for constitution week. The Broward County Supervisor of Elections was on hand to register voters, Student Services gave out mini-constitutions, students signed a mock constitution, seven students running for student government worked the crowd, and there was cake. Visitors on campus for the festivities: Dr. Arthur Keiser, Chancellor of Keiser University, Mrs. Evelyn Keiser, Co-Founder of Keiser University, and the KU Seahawks women's soccer team!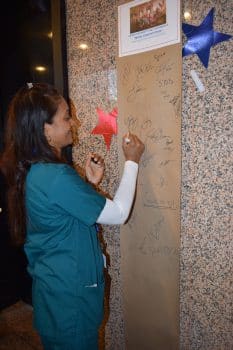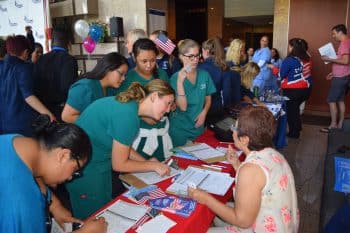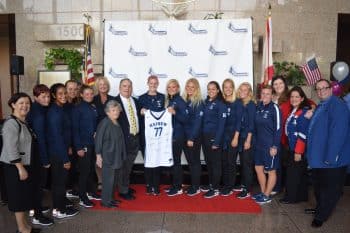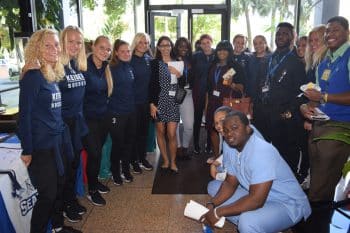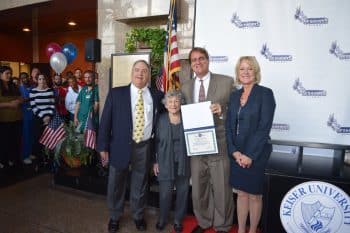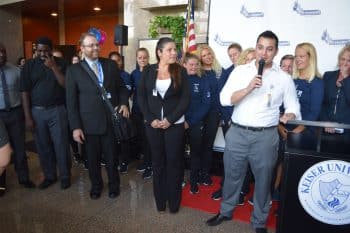 DAYTONA
Judge Howard McGillin, Seventh Circuit Court Judge, is a West Point graduate and career military officer. While serving in the U.S. Army for 28 years he held various positions, including field artillery officer, Judge Advocate General, and instructor. After leaving the military he went into private practice until he was appointed to the bench in 2014. He was retained by the voters this year for a full six year term. We were honored to have the judge share his words of wisdom with us this Constitution Week.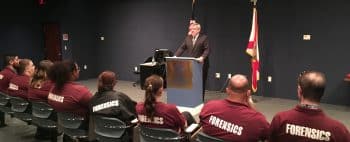 CLEARWATER
The Clearwater campus gathered faculty, staff, and students for constitution week activities including a game of Jeopardy. Other activities consisted of a constitutional word search, cross word puzzle, scavenger hunt, and an essay contest on, "What Does America Mean to Me?".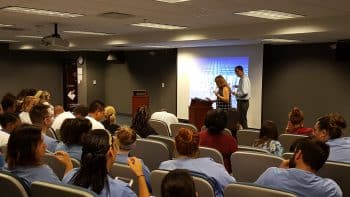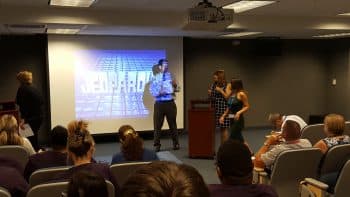 MIAMI
Constitution Week at the Miami campus consisted of several activities where students were able to learn more about the constitution. Our local Vet Center representative was on campus doing outreach for our student veterans in which he was able to connect with and provide them with necessary information. This year's Faculty Lecture Series for Constitution Week was presented by Cyndi White and Henry Georget with current hot topic about the First Amendment: "The American Flag and Football". Lastly, students, faculty, and staff were able to sign a poster board as part of the "Thank A Vet" activity in which the board honors our students and graduates that are military vets. Each year a new board will be added during Constitution Week in order to let our military vets know that we appreciate and honor them for their service to our country.