PORT ST. LUCIE –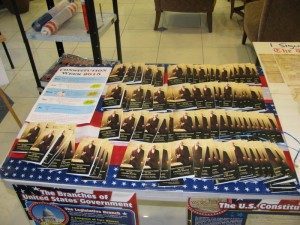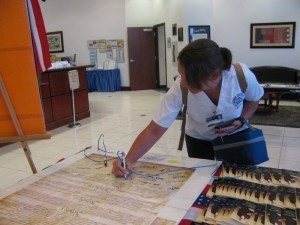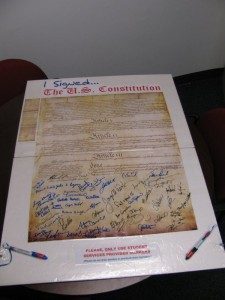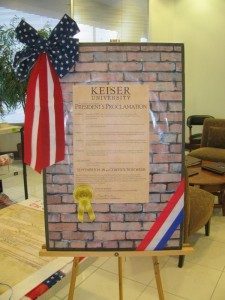 The Proclamation, signed by our campus president, which is on display. Offering 100 Pocket Constitutions while supplies last. This year, we heard several instructors state that they still have theirs from last year. The Signing of the Constitution. We have removed the original signers to make room for the signatures of KUPSL. Why? To symbolically state that we agree that this Living Document.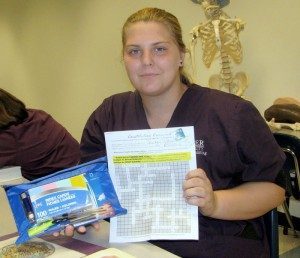 KUPSL offered a "Constitution Crossword" to complete for both Day and Night students. Entries with high scores, but not necessarily perfect ones, were placed in a drawing. Day students had until noon to turn in; night was given until 10pm. We planned to draw one winner from day and one from night. Thank you to all who participated. The winner received a "Study Kit." What is a Study Kit? Inside a blue binder pouch, the winner will find: 8GB USB flash drive, scientific calculator, index cards sticky notes, ink pens, patriotic pencil, highlighter, KU "phone wallet," and a 2015-2016 student planner calendar. The Day Winner:CHAZLYNN WITHUN, Medical Assisting. Several crosswords were given out at night, however, no night winner was drawn because no one turned theirs in.  In light of no complete night participation on Tuesday, Student Services drew a second winner from Day's Crossword Raffle as a bonus to award the second Study Kit to. JENNIFER NEWCOMB of Sports Medicine and Fitness Technology (SMFT) won the prize and it was delivered Wednesday morning! Always one for being team players, the rest of Jennifer's SMFT classmates gather round her in support.
DAYTONA –
FT. MYERS –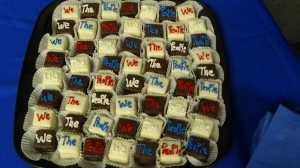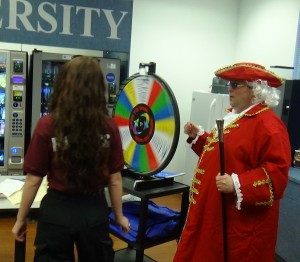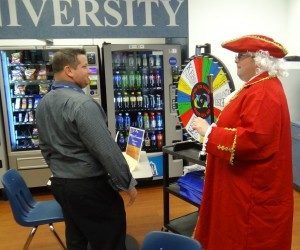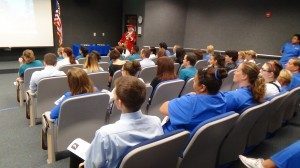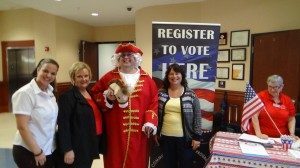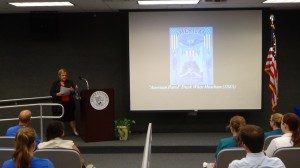 The Fort Myers Campus celebrated the 228th birthday of the United States Constitution in grand style. A Constitution-themed bulletin board was created in Student Services, and a display was also created by the library staff. Additionally, a special campus-wide scavenger hunt was created to assist students with learning facts about the Constitution.  During breaks students played "Wheel of Constitution" with host Paul Revere to gain additional information about the Constitution and win prizes.  On Constitution Day a special presentation was put on by Sharon Harrington (Supervisor of Elections for Lee County) and her staff.  Students learned how elections in Lee County  apply to the Constitution.  With his horse, "Constitution," Paul Revere served as the master of ceremony for the presentation.  The festivities concluded with "We the People" petit fours in honor of the occasion.  Following the presentation, students took advantage of registering to vote.  
TALLAHASSEE –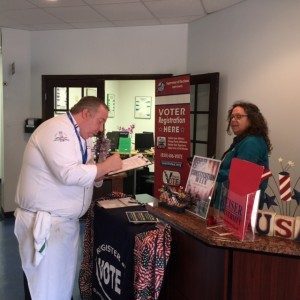 A representative from Leon County Supervisor of Elections staffed an information table outside of the career center for Constitution week. Staff and students stopped by to register to vote and make changes to existing voter's registration profiles.
FORT LAUDERDALE –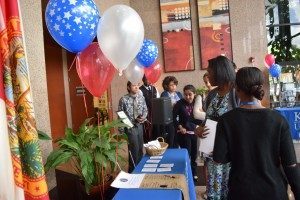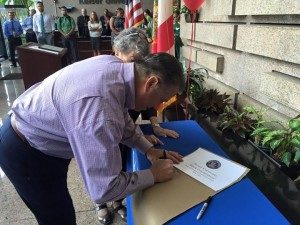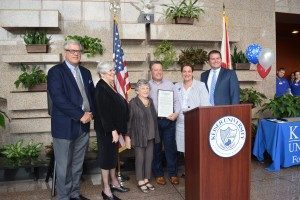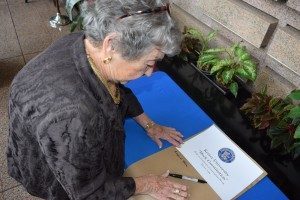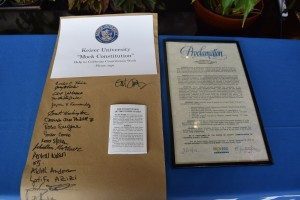 Constitution Week kick-off with Broward County Commissioner Chip LaMarca. Commissioner LaMarca presented Ft. Lauderdale with a Proclamation. Mrs. Evelyn Keiser, Commissioner LaMarca, Dr. Vonk, students, and faculty participated in signing a mock constitution. We also provided mini constitutions for everyone and celebrated with cake.
WEST PALM BEACH –
KU West Palm Beach Campus Student Services along with faculty & staff volunteers hosted a Constitution Day Seminar & Cook-out to educate and appreciate our students on Constitution Day.  They also hosted the YWCA and League of Women Voters on site for voter registration.
For the day classes, the program Director for the Paralegal and Legal Studies Department, Gary Chapman, gave a presentation on interesting facts about the writing and ratification of the United States Constitution.  He talked about George Washington, Benjamin Franklin, Alexander Hamilton, and John Adams.  He also discussed the faults of the Articles of Confederation and the compromises that were necessary to create the Constitution.
For the evening classes, Judge Robert M. Gross of Florida's Fourth District Court of Appeal spoke about the quartet of men who created the United States.  He spoke of how George Washington's dignity and fame,  Madison's erudition,  Alexander Hamilton's energy and John Jay's diplomacy helped make the US Constitution possible. He also discussed how the Constitution is a living and changing document.
PEMBROKE PINES –
The Pembroke Pines campus held a week-long tribute to Constitution Week to celebrate the freedoms we enjoy as Americans.  The events on the KUPP campus  included a voter's registration table, a trivia contest, the distribution of booklets about the U.S. Constitution, and a poetry contest. A workshop on civic responsibility was held as well. Guest speaker Bruce Blitman, Esq. was on campus to talk to the KUPP community about the history of the Constitution. The campus library mounted a month-long display of books and other resources on the U.S.Constitution, the Bill of Rights, constitutional law, and the other freedoms we have as Americans living in a democracy.