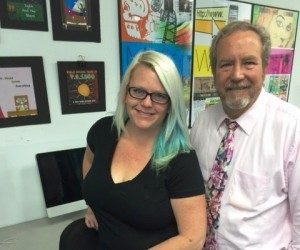 Written by: Greg Williams, Graphic Arts & Design Instructor at KU Lakeland
This week's Faculty Spotlight features two of KU Lakelands' Graphic Arts and Design instructors, Greg Williams and Kerri Percy. They are very involved with their current and past students, making sure they are always on the path to success. Here's what Greg Williams had to say:
"Kerri Percy and I have been working in KU desks seated beside each other for the past 11½ years. Obviously that experience together allows us to share teaching strategies, discuss student progress, and harness over 25 years of combined KU teaching experience into shaping an exciting and dynamic program. But the shared desire to always do whatever it takes to help our current and former students is what makes our partnership truly unique.
Over the past 8 years, we have created three community-based clubs designed to help serve the needs of not only our students and alumni, but the entire campus body and the community as well. In June, realizing that there was a need for networking, continuing education, and fellowship in the visual and creative professional community, we decided to start the Central Florida Creatives, a club for creative professionals, students, and those aspiring to enter the field.
So far, the Central Florida Creatives has already attracted over 50 members and 100 likes on its Facebook page. Last meeting Jessica Kircher, a KU-Lakeland Graphic Design graduate and current Social Media Communications student, discussed being hired at the only design position in Florida for Coca-Cola and what it took to differentiate herself from the more experienced competition during the interview process. In August, KU graduate Ryan Gonzales will be speaking about finding and keeping clients in the design business. Ryan is the former Creative Director for the American Legion of Florida and has recently purchased Graphics Systems Installers where his firm has already produced signage for the Super Bowl, in-house design for Checkers on a national basis, all the display graphics for the Lakeland Tigers' Merchant Stadium, and all the bus wraps for the local transportation authority. This club is a great vehicle for our alumni to network with each other and our current students to learn from our working graduates."
As always students, if you want to share something on ELSE, or have any questions or comments, feel free to email me. I would LOVE to hear from you!
Your fellow KU student,