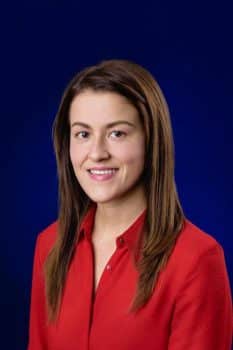 Keiser University Teacher Enjoys the Best of Both Worlds
When Sara Altamirano first experienced the rigors of working toward her master's degree, she gained a personal appreciation for educators, and how their inspiration and advice can change the course of one's life. It was then that she knew she wanted to play a role in helping students to realize their dreams.
Now as Keiser University's Social Media Manager and an adjunct faculty member at its Latin American Campus, Altamirano has the best of both worlds. "Not only do I get to educate the leaders of tomorrow, but I'm in the unique position of being able to spread the word about Keiser University's many success stories as its Social Media Manager," she said.
With the bulk of her students being juniors and seniors. Altamirano, a Managua, Nicaragua native, finds value in relating her lessons to 'real-life' scenarios as well as helping students to hone their presentation skills. "I think it's very important to know how to transmit an idea in front of an audience, because all of us have to do it at some point in our professional lives, and it can positively set us apart by providing a competitive advantage," said Altamirano who also emphasizes the importance of time management and a healthy study-life balance.
Voted top 2016 business teacher by the students, Altamirano is also very much in tune to the common anxieties coeds face as they first leave home and learn to effectively juggle rigorous academic schedules.
"If I could describe our students in two words I would say that they are both grateful and hard-working. They recognize that college can be a challenge, but they also know that studying at Keiser University is a once in a lifetime opportunity. As they advance at their own pace through the learning process, I make sure I let them know that their progress is noticeable. I really love the process of watching them grow. They always continue to amaze me as they transform into confident life-long learners," she smiled.
#ThankATeacher