A Grip for Your Yip
By Dr. TJ Tomasi, Keiser University College of Golf Senior Faculty and Director of Research
South African star Charl Schwarzel uses a putting grip that's designed to keep the right hand from overwhelming the left and shutting the face, a common cause of missed putts. He's placed two tees in the form of a gate to keep the face square, and now all he has to do is groove his stroke by hitting putt after putt.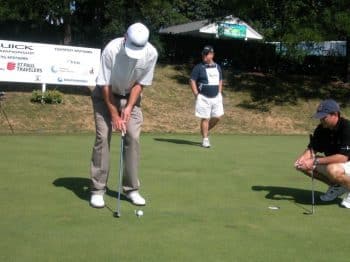 With a square face and proper path assured, the hole will fill up in a hurry, so his caddie is strategically located to help with the "drainage" problem.
On a monthly basis I field questions about the claw putting grip which, with the anchoring ban, is no longer an oddity on the PGA tour – so here is a synopsis of my response.
Originally developed by touring pro Skip Kendall, the "claw" has saved quite a few careers in a game where 30 or more putts per round is a one-way ticket to the broadcasters' booth. Some of the redeemed are experienced Champion Tour players like Mark O'Meara and Mark Calcavecchia, and PGA stars Kevin Sutherland and Phil Mickelson.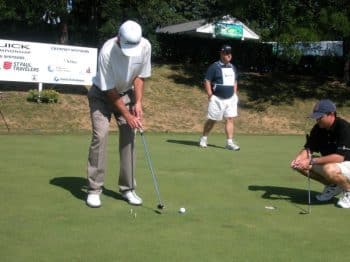 The Technique
There are several variations of the claw, but here is the "normal" version of this unusual grip:    1) First hold the top of the handle with only your target hand using a standard grip. 2) Let your trail arm hang naturally by your side with the fingers pointing toward the ground and stretch your right thumb down so that the webbed area between the thumb and the forefinger is taut with each finger extended. 3) Next, slide the trail hand toward the putter until the webbing gently touches the handle of the putter just below your top hand grip. Retain some bend in your trail elbow with the fingers in your trail hand extended.
Low and Level
Because it takes your dominant hand out of the stroke, this technique is great for the twitches/yips that can occur when the pressure mounts. The other major advantage of this grip is that since the force that moves the putter head should be the shoulders, the putter head is allowed to swing very level to the ground both back and through as is showcased in the photos. This promotes a solid strike in the middle of the putter face that produces a much more consistent roll.