The commencement ceremony for G-Star School of the Arts recently held additional meaning for graduate Sky Patterson as she walked across the stage at Keiser University's Flagship campus football field.
Patterson, a Lake Worth, Florida resident, who aspires to become a screenwriter or director is thankful for the opportunity to attend Keiser University's College of Cinematic Arts, as the program will provide the unique opportunity for her to continue to work on multi-million-dollar productions at G-Star Studios while immersing herself in academic studies.
Greg Hauptner, G-Star's Founder is pleased with her academic decision. "Sky is exceptional and born to be a director," he said. "When you go to a school like G-Star with a lot of filming, directing, producing and acting, certain people excel and Sky is excelling at directing and she knows where she is going and what she wants to do. We are proud that she wants to continue at Keiser," he said.
Keiser University's Bachelor of Arts degree in Cinematic Arts provides students with a solid foundation in cinematography, storytelling, and film production; incorporating business principles, as well as more advanced coursework and a strong general education program. "We are delighted to welcome Sky to our campus and look forward to viewing upcoming productions ," said Keiser University Flagship campus president Dr. Gary Vonk. "It's inspiring to watch future producers and directors hone their craft while also accomplishing the groundwork that will help to ensure their businesses remain vital and sound," added Vonk of the program's interdisciplinary approach which enables students to demonstrate their artistic expertise and application of business knowledge to enhance their career opportunities.
G-Star School of the Arts is a not-for-profit, public, charter high school that provides an exceptional, unified culture for all students to thrive academically and creatively, through respect, acceptance, self-discipline, and elevated thinking. Its film, theater, and digital media programs have been created and are being taught by passionate professionals from throughout the entertainment industry. Its production facilities provide project-based learning opportunities on professional productions and its International Baccalaureate program provides an academic foundation that is recognized around the world. It is also home to the X-Scream Halloween, one of the largest Halloween events in Florida which is built and run entirely by its students.
Keiser University is a private, not-for-profit university, serving nearly 20,000 students and employing 2,900 faculty and staff members. Co-founded in 1977 by Chancellor Arthur Keiser, Ph.D., and Evelyn Keiser, the university currently offers more than 100 degrees at 21 Florida campuses, as well as online and at two international sites. Keiser University is accredited by the Southern Association of Colleges and Schools Commission on Colleges as a level VI institution to award certificates and degrees at the associate, baccalaureate, masters, specialist, and doctoral levels. For additional information regarding Keiser University, visit http://www.keiseruniversity.edu.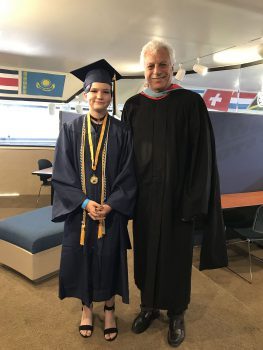 G-Star Founder Greg Hauptner with graduate Sky Patterson