Why Keiser?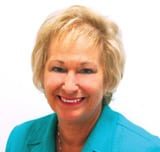 The Keiser University MBA program is designed to challenge students to achieve excellence in the business world and guide them to become effective and eficient leaders in both the domestic and international marketplace. But what a surprise! What has transpired within the last year is so much more than what I had expected.
I began my MBA journey over 35 years ago but due to business and personal responsibilities I did not finish my degree.  I was not sure if I had the energy either mentally or physically to actively engage in an online program with students half my age. My goal was not to "climb any ladders" or "break any glass ceilings"; my goal was to gain knowledge in the current business environment to assist in my educational training programs.
I am so excited to have an opportunity to share that the program has renewed my mind; changed the way I think; and has given me a new sense of purpose. I owe my enthusiasm to the strong support and encouragement of the faculty. Through this online educational vehicle, the professors transformed my attitude and behavior; gave me the self confidence I was lacking; and restored my energy. The sharing of ideas, experiences and challenges with the other students enlightened each of us to the possibilities available in our futures.
I confess that I have a new sense of empowerment. After years of going through the motions, both professionally and internally; my mind is now awakened. It is like a sponge; soaking up new knowledge; and broadening the promises in my future. My daughter said it best, "you are younger now than when you were fifty!"
It's never too late.
Bio: Connie Sue Centrella is Director of Education for Team Horner, a group of manufacturers and distributors in the swimming pool industry. She travels extensively promoting the value of education as a means of gaining a competitive advantage.