DAYTONA
The Daytona Beach campus has been enjoying lots of Cystic Fibrosis fundraisers to meet (or pass!) the $1,500 goal. Earlier this week, Whim Wham Pottery brought ceramics on campus for faculty, staff, and students to paint. Participants chose from a variety of holiday ornaments and coffee mugs to paint, that will later be fired and glazed. An after-hours fundraiser was held at Masterpiece Mixers on Wednesday – participants, including Campus President Dr. David Champlin, enjoyed a step-by-step painting on canvas session, hosted by a professional artist. Together these two fundraisers contributed $400 towards the $1,500 goal!
SARASOTA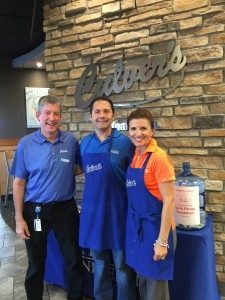 The Sarasota campus teamed up with Culvers Ice cream for a night! A percentage of the nights sales will be donated to Keiser University's Cystic Fibrosis fund! Director of Student Services Violet Huesman and Campus President Todd Cunningham happily wore the culvers apron and raised awareness while assisting customers for such a good cause.
LAKELAND
For the second year in a row KU Lakeland held Penny Wars.  The event raised money over $700 towards the goal for the campus CF fundraiser.
FORT LAUDERDALE
The Ft. Lauderdale campus hosted a Community Family Pasta Dinner to benefit Cystic Fibrosis. The Hollywood Junior Chamber of Commerce Jaycees) were in attendance and they graciously hosted us at their hall. They also had Special Guests, Dr. Arthur Keiser, Miss. Hollywood USA Jacqueline Garcia-Casals and Miss. Hollywood Teen USA Victoria Disorbo. Food sponsor was Joe Knows Lunch, DJ services by DJ Rere, and they also had a kid's corner and a raffle. Fun was had by all.
NEW PORT RICHEY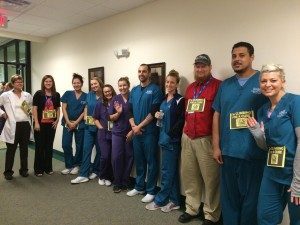 The New Port Richey campus held "One Step Closer to a Cure" Stair Climb.  Sponsors donated close to $300 to support our participants who climbed up 100 stairs, representing that we are moving One Step Closer to a Cure. There were two events, so I am attaching the video for the first one, which took place in September. All the donations went to Cystic Fibrosis Foundation.
TALLAHASSEE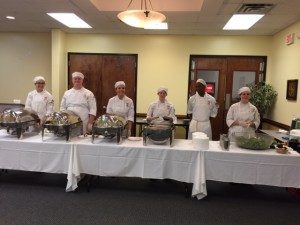 The Culinary students prepared a pasta lunch to benefit Cystic Fibrosis.