Keiser University College of Chiropractic Medicine Awarded Initial Accreditation by Council on Chiropractic Education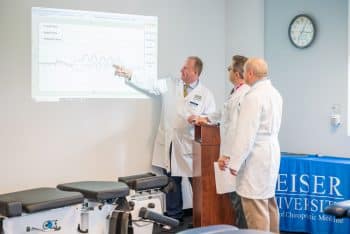 Jan. 28, 2019
For Immediate Release
Media Contacts:
Keiser University
1500 N.W. 49th St., Fort Lauderdale, FL 33309
www.KeiserUniversity.edu
Contact: Dianne Anderson
[email protected]
(954) 801-6538
West Palm Beach, FL – Jan. 28, 2019 – Keiser University College of Chiropractic Medicine (KUCCM) has been awarded initial accreditation by the Council on Chiropractic Education (CCE), an important recognition of the quality of education and care provided by the college. Keiser University's Doctor of Chiropractic program combines classroom learning with an emphasis on contemporary research and hands-on practical experience at the university's West Palm Beach campus. This evidence-based program prepares students with the skills and knowledge they need to care for patients of all ages.
"We are extremely pleased to receive this accreditation, which is a testament to the experience of our faculty and the dedication of our students," said Chancellor Arthur Keiser, Ph.D. "Our College of Chiropractic Medicine brings together some of the nation's top doctors and most sophisticated technology to offer our students an excellent education and clinical practice."
The accreditation follows a site visit and review of performance indicators such as retention rates, academic support, clinical competency outcomes, student performance, and planning and budgeting processes. The Council conducted deliberations and reached a consensus decision to award initial accreditation to Keiser University's Doctor of Chiropractic program. Accrediting bodies evaluate educational practices and associated outcomes based on best practices to ensure that graduates are competent to provide high-quality, safe, and effective care for their patients.
"I am extremely proud of our faculty and students who share with me a commitment to excellence in chiropractic education, "said Dr. Mike Wiles, Dean of the College of Chiropractic Medicine. "The process of achieving initial accreditation has been rigorous, instructive and constructive for the College of Chiropractic Medicine, and we are very excited to join the community of accredited Doctor of Chiropractic programs in the US."
CCE is the national accrediting agency for Doctor of Chiropractic Accreditation in the United States. Accreditation provides assurances of educational quality and institutional integrity to governments, jurisdictional licensing and regulatory bodies, institutions, professional organizations, students, other accrediting agencies, and the public.
About Keiser University
Keiser University is a private, not-for-profit university, serving nearly 20,000 students and employing 3,800 faculty and staff members. Co-founded in 1977 by Chancellor Arthur Keiser, Ph.D., and Evelyn Keiser, the university currently offers more than 100 degrees at 21 Florida campuses, as well as online and at two international sites.
Keiser University is accredited by the Southern Association of Colleges and Schools Commission on Colleges as a level VI institution to award certificates and degrees at the associate, baccalaureate, masters, specialist, and doctoral levels.
For additional information regarding Keiser University, visit www.keiseruniversity.edu.