Just a few short weeks ago, the KU Daytona received some sad news regarding the child of recent graduate, Brittney Hedetniemi.  Not long ago she graduated with her Associate of Science degree in Occupational Therapy Assistant. In her time as a student she was heavily involved in several on-campus events and organizations including the Operation Homefront toy drive, the annual KU Games, and she served as the SOTA President. In addition, Brittney achieved the highest GPA in her OTA graduating class and was awarded the Keiser University Daytona Beach Campus Occupational Therapy Assisting Program Outstanding Academic Achievement Award in 2014.
Brittney's five year old son Brayden was diagnosed with Acute Lymphocytic Leukemia. Brayden was a major presence during Brittney's time as a student and he could regularly be seen accompanying his mom as she stayed late many nights studying for exams or completing projects. When Brittney's instructors and administrators received the news, they began to put together some ideas to support Brittney and her family.
Located in every classroom is a container for aluminum can tabs to be collected in order to give to the Ronald McDonald House Charity, on behalf of Brayden. Some classes have turned their tab collecting habits into a personal challenge, while other students like Shawn Wyeth in Medical Assisting have been so touched by Brayden's story that he has gone around his neighborhood to collect tabs in his community and has single-handedly contributed well over 1,000 tabs to donate for Brayden.
In addition, the campus held a "Dress Down Day for Bray" where students and faculty were encouraged to wear either flannel (a staple of Brayden's wardrobe) or orange to represent his fight with Leukemia. The cost to dress down was $2 for students and $3 for faculty/staff. There were nearly 100 participants in the dress down day and Keiser University Daytona Beach is already looking for more opportunities to pull together in an effort to help one of their own.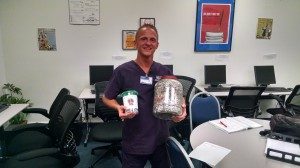 Shawn Wyeth, Medical Assisting student, holding a fraction of the pop tabs he has collected on his own for the effort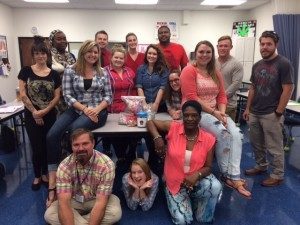 Dr. Kristin Eckman's class pooled their efforts to raise  money and donate tabs for Brayden's Army