Keiser University Esports 'Counter Strike' Team is Victorious in Inaugural Match Against St. Petersburg College
Nov. 5, 2019
For Immediate Release
Media Contacts
Kelli Lane / 954-235-0331 / [email protected]
Suzi McCreery / 561-301-9583 / [email protected]
Keiser University
2600 North Military Trail, West Palm Beach, FL 33409
www.KeiserUniversity.edu
FOR IMMEDIATE RELEASE
Keiser University Esports 'Counter Strike' Team is Victorious in Inaugural Match Against St. Petersburg College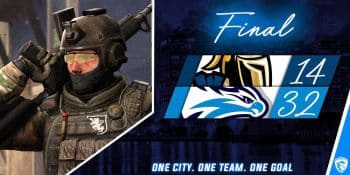 Keiser University, as a member in the National Association of Collegiate Esports (NACE), won its first match on October 26th against St. Petersburg College with a final score of 32 to 14 after two rounds.
West Palm Beach, Florida – November 2019 The Keiser University Esports Team Counter Strike (CS:GO) recently defeated St. Petersburg College in their first-ever competition. Keiser won the first round 16-10 and the second round 16-4. The team posted a 1.44 kill-death ratio while the leading scorer of the game was Brandan Petrowicz with a 2.18 ratio.
Currently in its inaugural year, the Keiser University esports initiative began when the school's College of Advanced Technology introduced the Keiser Click Esports Club Overwatch and League of Legends teams. The university's Flagship campus subsequently introduced a coed esports athletic team which competes in the National Association of Collegiate Esports.
Esports 2019 earnings have topped $345 million in revenue in North America according to Newzoo. "As the esports industry continues to grow dramatically, we are pleased to offer our students the opportunity to develop and showcase their professional video gaming abilities, as the capability can create a variety of academic, social and professional opportunities," said Arthur Keiser, Ph.D., Chancellor of Keiser University.
Keiser University recently completed a gaming arena which is housed in the West Palm Beach Flagship Campus' Countess de Hoernle Student Life Center. The venue serves as the home for the varsity program for matches and practices, while also providing a gaming hub for club and intramural programs. The area includes 24 gaming desktops with Intel Core i7 processors and NVIDIA RTX 2060 graphic cards. Each gaming station has a dedicated internet line for swift, uninterrupted gameplay. As Esports competitors from different leagues play the same organized competitive video games that are popular with at-home gamers, their progress can be viewed by millions of fans globally who either attend live events or tune-in digitally with live streaming services.
One of only a handful of Florida universities offering an esports program, Keiser University has partnered with the National Association of Collegiate Esports (NACE) to provide a competitive framework for Seahawk gamers. The Keiser program will participate with several Seahawk Esport teams who will compete in multiple games across the country. Housed within the National Association of Intercollegiate Athletics national office, NACE oversees rules and competition for its more than 170-member institutions, which include NAIA, NCAA, and NJCAA colleges and universities.
Individual Keiser University statistics for the match included:
Pacifist1997 – 34 kills
Shwel – 26 kills
Goldenglade – 30 kills
xINSANITYx – 26 kills
Glade-iators – 21 killsSince taking the victory in their initial match on October 26, the Seahawks Esports CS:GO team extended their win streak with a sweep of the University of South Florida and looks to continue their success.About Keiser University
Keiser University is accredited by the Southern Association of Colleges and Schools Commission on Colleges as a level VI institution to award certificates and degrees at the associate, baccalaureate, masters, specialist, and doctoral levels. For additional information regarding Keiser University, visit www.keiseruniversity.edu
Keiser University is a private, not-for-profit university, serving nearly 20,000 students and employing 3,800 faculty and staff members. Co-founded in 1977 by Chancellor Arthur Keiser, Ph.D., and Evelyn Keiser, the university currently offers more than 100 degrees at 21 Florida campuses, as well as online and at two international sites.