Keiser University expects an increase in distance learning through online education in 2021. The university saw a 22 percent jump in the number of students enrolling to obtain degrees through its online division in 2020 and 2019. This is not counting hybrid degree programs or programs with online components, which have also seen an increase.
Keiser was an early provider of online degree programs, which positioned the university to be a leader in virtual education today. The University has offered online classes since 1998. Every registered course at Keiser includes an online learning shell that provides users with a platform for communication and sharing content since 2013.
"The nice thing about Blackboard is everything is very structured. We know exactly what homework we were expected to do. All the due dates and deadlines were posted so we could stay on track," said Kensey Bille, Associate of Science in Radiologic Technology degree program student.
Thanks to the university's robust online platform, Blackboard Learn, Keiser students who were taking in-person classes moved to a virtual learning environment within 48 hours in March 2020, when campuses closed because of the pandemic.
Bille was forced to make the switch from taking in-person classes at the university's Sarasota campus to virtual classes.
"It was a form of responsibility that I had to take on with the challenge of adjusting to online [learning], but I feel like that's made me more independent," Bille said.
Like Bille, all health care students rely on hands-on experience to complete their degrees. KU Fort Myers student, Jessica Mertz, is earning an Associate of Science in Diagnostic Medical Sonography.
She was also taking in person classes until the pandemic forced her to go online. The school immediately handed Mertz and her classmates online ultrasound simulation devices that plug into computers. It comes with a probe, also known as a transducer, that students can use to mimic administering an ultrasound.
"It made us feel as if we were still getting that hands-on experience. We are still getting that hand-eye coordination and being able to look at the screen and do the movements," Mertz said.
Mertz was able to take and label images to complete some competencies at home and gain credit hours. "I am definitely grateful that we had that piece of technology."
KU recognizes the importance of technology in education. The university earned multiple e-learning awards over the years for its online platform. Most recently, Niche.com's 2021 College Rankings recognized Keiser as No. 3 for Best in Online Education in Florida and No. 9 Best in Online Education in America. Keiser also earned Blackboard Catalyst Awards in 2019 and 2020.
Dr. Arthur Keiser, Chancellor and CEO, believes the key to successful online learning is interaction and small class sizes.
Many students moved into a hybrid schedule in summer of 2020. For Bille and Mertz, the hybrid schedule means they each attend in-person labs in a socially distanced environment and use the online platform for class lectures. Lectures are conducted via Keiser Live within Blackboard.
Keiser Live, which lets classes meet virtually at their scheduled times, allows professors to lecture through webcam and ask students questions in real time. Class recordings are posted to Blackboard. Bille benefitted from replaying the lessons. "It helps to repeat things, play it back and be able to learn at my own pace."
Today, Bille is ahead of schedule in completing competencies, which demonstrate she can position a patient in multiple ways for x-rays. It's one of the requirements for graduation. Bille expects to graduate in April or May of 2021.
Mertz is taking an online class and doing in-person clinical rotation at an outpatient facility. She hopes to work at an outpatient center, then maybe return for a bachelor's degree. Mertz expects to graduate in August of 2021.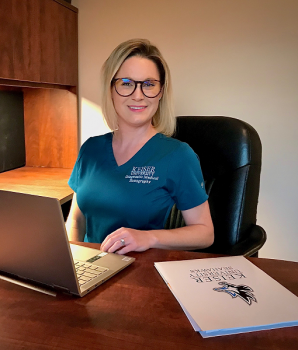 Jessica Mertz, Diagnostic Medical Sonography Student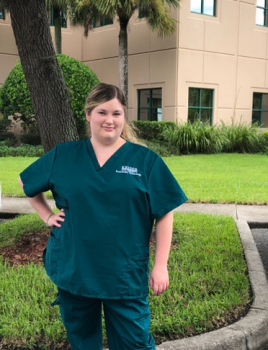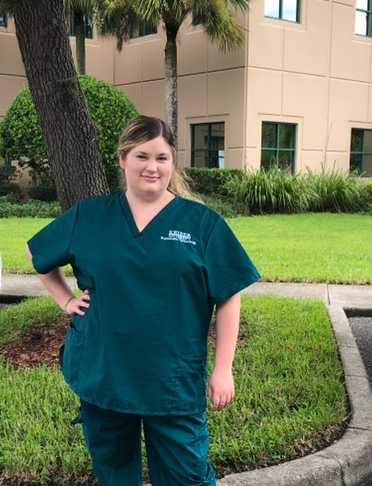 Kensey Bille, Radiologic Technology Student