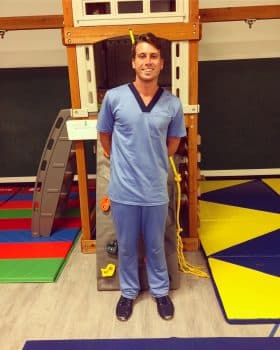 Dalton Krencik, a Keiser University Flagship campus Exercise Science graduate is now one step closer to his goal of becoming a Rehabilitative Clinician thanks to his recent acceptance into a doctoral program.
The Fort Pierce, Florida native earned his Bachelor of Science degree in Exercise Science from Keiser University's Flagship campus and was recently accepted into the Doctor of Occupational Therapy program at the University of Saint Augustine for Health Sciences. 
Krencik credits his Keiser University curriculum and instructors for jumpstarting his career path. "The structure of the assignments really provided we students the opportunity to hone into our areas of interest as we grouped to develop class projects, research papers and then concentrated on our own individual studies. The professors got to know me, and really focused on my individualized goals to help ensure I had a roadmap and was prepared for life after graduation. I am forever grateful for the leadership and guidance each of them has provided because I now have the confidence to earn my doctorate degree which will further prepare me to make a difference in the world," said Krencik who is currently employed as a Sensory Motor Coach for a pediatric neurodevelopmental therapist in Davie, Florida before heading off to college again.
"One goal when designing assignments is to harness the student's motivation for taking the course. Grades will always reflect the student's mastery of more objectively-defined course competencies, but the work itself—both the process and its outcomes—is more substantial when the student is allowed a say in connecting it to why they are there in the first place. The work done by Mr. Krencik was a perfect example of this and demonstrated how personal, professional, and academic goals can align to inspire truly meaningful work," said Dalton Oliver, Exercise Science Professor, and Program Director.
"In this temporary position, I'm already enjoying the field I want to spend the rest of my life in. I have learned so much, and really believe these experiences are preparing me to work with children and to provide them the functionality that they deserve," he said.