Last week, Keiser University's Flagship Campus hosted a luncheon for The Florida Commission on the Status of Women. Approximately 50 guests, including: Chair, Lady Dhyana Ziegler DCJ PhD; Palm Beach County Board Member, Erica Whitfield; and Broward County Board Member, Nora Rupert, were in attendance. Guest speakers included: Palm Beach County School Board Member, Marcia Andrews; Keiser University's Vice Chancellor, Belinda Keiser; and Karin Hoffman, Commissioner of The Florida Commission on the Status of Women. The Florida Commission on the Status of Women's efforts include raising awareness and celebrating the contributions and successes of all Floridians, along with providing a collaborative platform for those seeking information on issues that affect women, girls, and their families throughout our state.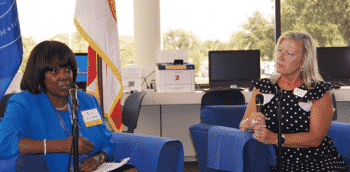 The scope of the community meeting was to explore and discuss the complex role of women as leaders, their challenges, and the commitment and responsibility these women in leadership positions understand and appreciate. These participants, all of whom have a vast wealth of experience within the area of education, expressed their challenges and methods, which helped them to reach their goals.
"I strive to have a circle of friends and advisors, whom I truly trust, who don't always agree with me, but advise me when needed. We utilize this same philosophy within Keiser University. We have over one-thousand industry advisors that look at our degrees, so that the education continues to be relevant for our students," said Belinda Keiser. Marcia Andrews weighed in by stating, "Courage is what helped me make the difference. Leadership cannot be about you. It has to be about the people you serve."
Karin Hoffman, who also served as the moderator for the panel, added, "Seeking wise counsel is an important part of making the right decisions as a leader."
The Florida Commission on the Status of Women, which began in 1991, is focused on studying the changing and developing roles of women in American society. They also implement recommendations to improve working conditions, financial security, and the legal status of both sexes. If you would like to learn more about their organization, you may visit: http://fcsw.net/.