Keiser University is Florida's Top Producer of Nurses Who Pass National Exam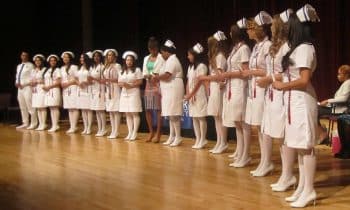 May 10, 2018
For Immediate Release
Media Contacts:
Dianne Anderson
954-801-6538
[email protected]
FORT LAUDERDALE, FL – Keiser University continues its work toward combatting the projected critical shortage of Florida's registered nurses in the next decade, with a nursing degree program that had the highest number of graduates in the state to pass the national licensing exam last year (2017).
493 students from Keiser University took the National Council Licensure Examination (NCLEX-RN) in 2017, and 451 passed – an impressive rate of 91.48 percent, according to National Council of the State Boards of Nursing. More of Keiser University's graduates passed the NCLEX to become registered nurses than graduates from of any other institution in the state last year.
"We are so proud to have become Florida's number one producer of nurses who passed the national boards last year," said Dr. Arthur Keiser, Chancellor of Keiser University. "We believe this success comes down to our smaller class sizes, personal attention, attendance policies, and other key Keiser University principles that better prepare our students for the workforce."
Keiser's professional nursing curriculum centers around an evidence-based approach to educating a diverse student body in the practice of nursing. It focuses on a combination of observation, assessment, diagnosis, and evaluation of care to provide an advanced patient-centered learning environment utilizing integrated technologies, interdisciplinary collaboration, and sound clinical judgement.
"Our faculty helps students gain the specialized knowledge and advanced skills they need to meet the biological, physical, and psychological needs of patients." Keiser said. "By partnering with well-known medical institutions and industry leaders, we can provide our students with practical training using the latest healthcare and simulation technologies."
The Florida Center for Nursing baseline forecast projects the state will face a shortage of RNs by 2025 that is could cripple the state's healthcare system and reduce access to care for Floridians. The center's research also found that more than 40 percent of Florida's nurses are approaching retirement age within the next 10 years with not enough younger nurses to replace them.
To learn more about how Keiser University's professional nursing degrees – from Associates through Doctoral – are preparing students to meet the need for qualified nurses, go to https://keiser-education.com/programs/nursing.
About Keiser University
Co-founded in 1977 by Dr. Arthur Keiser, Chancellor, Keiser University is a private, not-for-profit University serving nearly 20,000 students on 20 Florida campuses, online and internationally, and employing 3,800 staff and faculty. Keiser University is accredited by the Southern Association of Colleges and Schools Commission on Colleges to award certificates and degrees at the associate, baccalaureate, masters, specialist, and doctoral levels.
For additional information regarding Keiser University, visit www.keiseruniversity.edu.