Keiser University, Florida's second largest, private, not-for-profit University, on Wednesday presented Volunteer Florida and the Bay Law Enforcement Assistance Fund with donations raised by students, staff, and faculty over the past six months at several Florida campus locations. Two checks totaling $50,000 were awarded to the two organizations to provide for the welfare and support of the victims, the first responders, and the communities, which were devastated by Hurricane Michael last Fall.
This destructive hurricane, now confirmed as a Category 5 storm when it made landfall on October 10, 2018, devastated the panhandle of Florida. To this day, the road to recovery for residents, businesses, and first responders continues.
The check ceremony took place at the Florida Capitol building before an audience of lawmakers, victims, and first responders. Speakers included Belinda Keiser, Vice Chancellor of Keiser University; Florida's Chief Financial Officer, Jimmy Patronis; CEO & President of Volunteer Florida, Clay Ingram; and Sheriff Tommy Ford of the Bay County Sheriff's Office.
"As Florida's families struggle to recover from the devastation caused by Hurricane Michael, Keiser University's statewide campuses are proud to stand with CFO Patronis, Volunteer Florida, the Bay County Sheriff's office and our dedicated lawmakers from Bay County, and around the state to provide these funds to aid in the recovery and shine a light on the ongoing need of those affected," said Belinda Keiser, Vice Chancellor of Keiser University.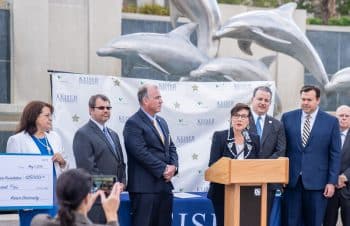 "Volunteer Florida is thankful for Keiser University's generous donation to the Florida Disaster Fund," said Clay Ingram, CEO of Volunteer Florida. "It's been over six months since Hurricane Michael hit the Florida Panhandle, but the people there are just starting to rebuild their homes, schools and businesses. Support like this proves that they haven't been forgotten and their recovery is still a priority."
In the wake of the storm, the Bay County Sheriff's Office has had its hands full. Most of their officers lost their homes while looting and other crimes have risen in the aftermath.
"I am so deeply grateful for this generous gift from Keiser University to the men and women of the Bay County Sheriff's Office who suffered tremendous loss due to Hurricane Michael," said Bay County Sheriff Tommy Ford. "As a result of this donation, our deputies will be able to continue their mission—keeping their community safe. Thank you, Keiser University, for your thoughtful support for the Bay County Sheriff's Office, and other victims of Hurricane Michael."