It was a running joke around her family circle. Ariella Scott acted as if she was a doctor. The Keiser University student would make it a point to be the first to tell her ailing relatives what might be bothering them. But three years ago, the roles reversed. The 23-year-old Texan gave herself an examination. To view the NBC interview with Scott in her hometown of Fort Worth, Texas, please visit here.
"I was in pain," said Scott, who will receive an Associate of Science degree in Medical Administrative Billing and Coding during Keiser University commencement exercises, Sept. 8, 2023, at the Charles F. Dodge City Center in Pembroke Pines, Fla. "And I realized some things about my body that I needed to go get checked out."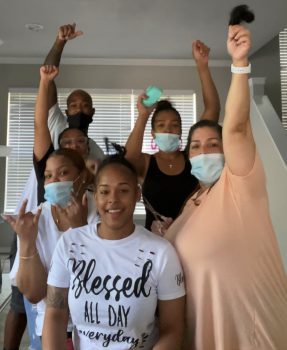 A mammogram detected what she had assumed. There were physical changes to her breast. The biopsy confirmed what she had feared. Scott was diagnosed with Stage 4 breast cancer.
Young women like Scott are not supposed to get breast cancer. Only about 4% of the women who accounted for breast cancer diagnosis last year were under the age of 40. However, the American Cancer Society reports late-state breast cancer diagnosis in young women like Scott has been climbing by about 3% each year.
Scott had only recently stopped breast feeding her daughter. Now, immediately after her diagnosis, she was being asked to write a will, plan for hospice, and undergo chemotherapy as cancer marched into her brain area.
"There were times I just didn't want to do the chemotherapy," said the Keiser University student, now 27. "Nothing made sense to me. It was all so unreal."
Challenging Side Effects
Even as the headaches mounted and the radiation made her skin peel and her hair, eyelashes, eyebrows, and nails fell out, Scott remained enrolled in online classes toward an associate degree. Remote schoolwork provided a distraction from the long days in the hospital.
"It was horrible — like an elephant was stepping on my head," said Scott. "But I pushed myself forward. I'm hard on myself because I want the best for myself, and I want to show my daughter that you can do anything when you set your mind to it."
The one caveat was Scott had to transfer to the billing and coding program once she realized that she could not continue chemotherapy and take part in the clinicals required of the medical assisting curriculum.
"I can definitely go back to school to be a medical assistant if chemotherapy stops," said Scott. "Hopefully, I can get a remote job in billing and coding while continuing chemotherapy."
That is for another day, which is more than Scott might have thought she had when she was first diagnosed with late-stage cancer three years ago. For now, tomorrow is about making the trip with her four-year-old daughter from their home in Fort Worth, Texas, to Florida where she will receive her diploma.
"It feels good that I may be an inspiration," said Scott, who plans to author a book about her journey. "I know there are people with worse conditions. Keep moving forward. Don't let somebody tell you what you cannot do or what you shouldn't be doing. Don't let cancer define you. Define yourself."
Billing and Coding Careers
Keiser University's Associate of Science degree in Medical Administrative Billing & Coding prepares students to assign accurate medical codes for diagnostic procedures and other services offered by healthcare practitioners. Keiser University is currently enrolling its next cohort of nursing students, who may begin coursework this fall.
"We are so proud of Ariella," said Arthur Keiser, chancellor of Keiser University. "At Keiser university, we are committed to providing a diverse and inclusive learning environment so that all students – even those who may have a very challenging path – can find a personable and nurturing atmosphere conducive to helping them learn and grow."
Co-founded in 1977 by Chancellor Arthur Keiser, Ph.D., and Evelyn Keiser, Keiser University currently offers more than 100 degrees from associate to the doctoral level. Keiser University is a designated Hispanic-Serving Institution, a member of the Hispanic Association of Colleges and Universities and ranks No. 1 in the U.S. in providing Social Mobility by U.S. News and World Report in 2023.