Keiser University West Palm Beach campus student Cassondra Corbin-Thaddies recently founded Connect to Greatness, a nonprofit to support African American males.
The mother of two always knew she wanted to advance opportunities for youth.
"Sitting on the sidelines was not an option for me," reflected the Instructional Design and Technology doctoral student. "Connect to Greatness became a reality out of the overwhelming frustration, anger, and fear that I felt and still feel day-to-day as a mother of black boys.  I wanted to create an organization that was about empowering our boys to change the narrative for themselves as they connect to their own value. In addition, I wanted moms of boys like me to feel supported to use their voices to advocate for their families."
And efforts have paid off for Corbin-Thaddies, who'd chosen Keiser because of its academic reputation, location, and the leadership and character of campus president Kimberly Lea. In the short time since the organization was founded in September, 2016 it has served 12 families, and offers life-changing programs such as the Boys to Men Leadership Academy, a 30-Week program focused on building the fundamental skill sets of boys to become great men and change-makers in the world, and the C2G Women of Boys Empowerment 30-Week Program, which inspires women to advocate for issues that are important to them and to seek and create their own leadership pathways. With a focus on the myriad of challenges black male students face as they prepare for the transition into middle school, C2G concentrates on how to handle physical changes, new academic expectations, and the pervasive stereotypes that can impact them socially and emotionally.
"Keiser has afforded me the unique opportunity to simultaneously be a student and a leader. I think every one of my professors can tell you what I am passionate about.  Every chance I have gotten, I have written a research paper related to black male students.  Each professor has jumped right in with me and offered their unique insights and perspectives on the topic which has forced me to think deeper about the issues and viable solutions," added Corbin-Thaddies.
After graduation the local trailblazer plans to continue conducting research that leads to action in education, especially as it relates to the success of black male students. "Writing and publishing that new narrative is my intention. I hope to leverage the knowledge I've gained at Keiser University to promote a shift in mindsets and expectations for Black male students.  This means we all must do the work.  Connect to Greatness, Inc. is a starting point and to move the proverbial "needle" for our boys will take a community of partners who share the same vision and are intentional and unapologetic about this work," smiled Corbin-Thaddies.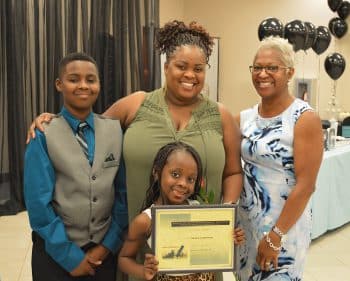 Cassondra Corbin-Thaddies (left) with (l-r) Jayden Jasmin, Naomi Loriston and Ja'Nyla Jerome