Barcamp has an "un-conference" each year in Tampa, but this year's was special. The internet turned 50 years old this year. This free event brought knowledgeable techies from Tampa Bay and across the state, as well as, industry leaders to attend and speak. Keiser University hosted the event at its Tampa Campus on Saturday, October 5th.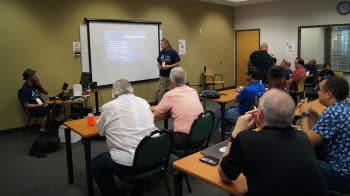 This was a day of learning for attendees, who represent all coding languages and supporting technologies. Barcamp Tampa Bay is in its 13th year and averages approximately 800 people annually. Sessions were centered around technology, coding, software development, social media marketing, and other issues that impact the tech startup community. Also featured, were students from across the region, FIRST Robotics, The Tampa Hackerspace, the St. Pete Makers, and Tampa Bay Inventors Council.
Dozens of speakers participated and the topics were almost endless. There were discussions on Ruby, Linux, PHP, WordPress, Ad Words, SEO, blockchain, A.I., VR, gaming, cryptocurrencies, robotics, blogging and social media, to photography, podcasting, film, autonomous vehicles and cybersecurity. Other subject areas included intellectual property law, growth hacking, startup economics, and managing outsourced development teams.
"This year, there seems to be more of a focus on Artificial Intelligence and machine learning, and things of that nature, that people are coming to talk about," said Joy Randels, Board Chair at Technova Florida, a lead Barcamp organizer and tech industry leader.  For more information about Barcamp Tampa Bay, please visit: https://barcamptampabay.org.