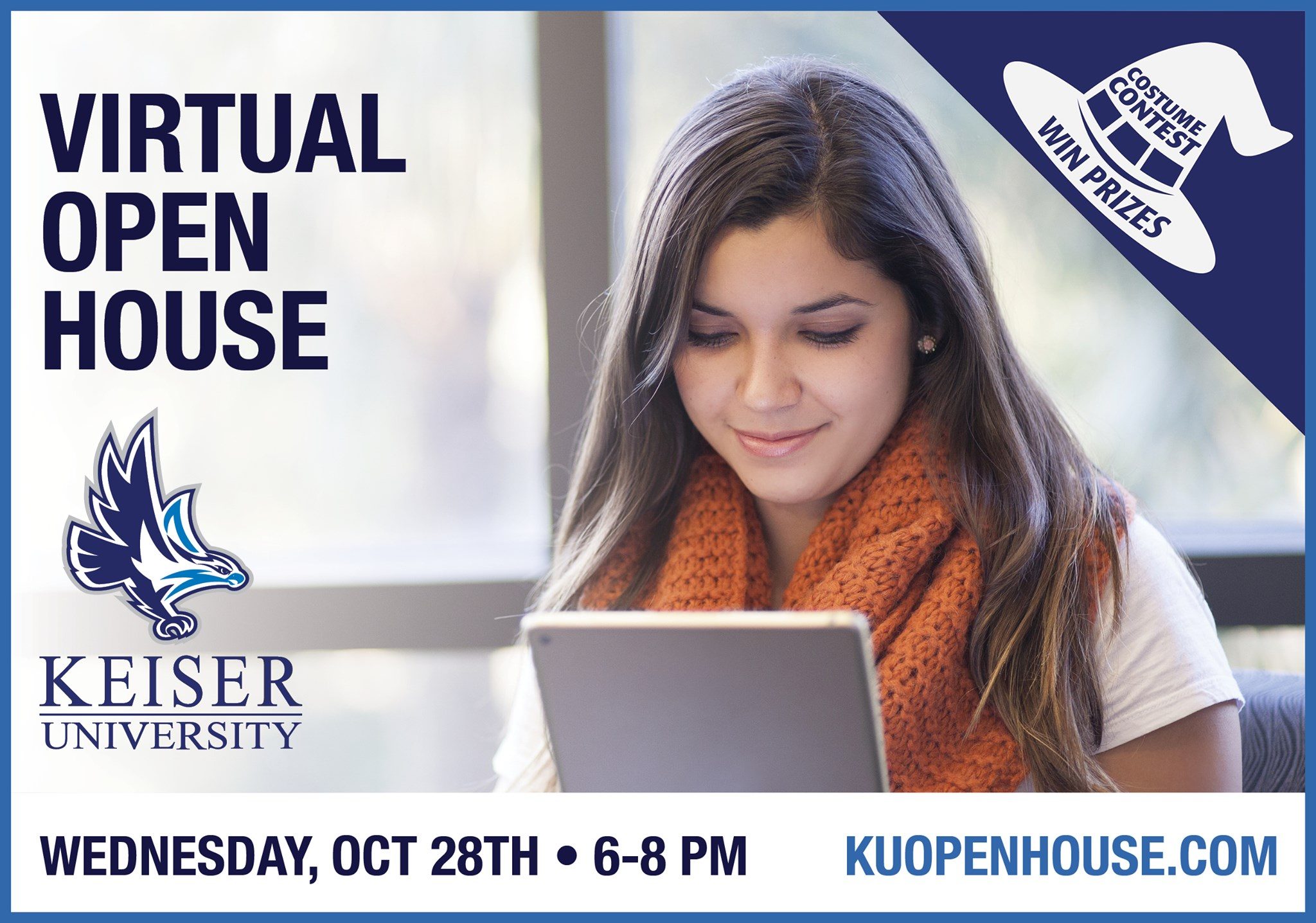 Keiser University to host virtual College Night open houses at all Florida campuses
Friday, Oct. 16, 2020
For Immediate Release
Contact:
Kelli Lane / 954-235-0331 / [email protected]
Jeff LaLiberte / 954-821-3986 / [email protected]
Keiser University to host virtual College Night open houses at all Florida campuses
The virtual open house events will feature an in-depth look at KU's unique academic programs in addition to providing attendees with some Halloween fun!
 FORT LAUDERDALE, Fla.— Keiser University will host its fall College Night open houses on Wednesday, October 28, 2020, from 6 – 8 p.m. Keiser University's open house series is meant to provide interested students with a thorough understanding of the school's approach to student success.
Keiser's College Night events will occur virtually and offer prospective students and their guests an inside look at what learning is like at Keiser University. Participants will have the opportunity to meet with faculty and staff while learning about Keiser's wide range of academic programs. Attendees will gain information about the FASFA application process and financial aid options available to students. Admissions counselors will also be available to answer questions, assist with applications, and help students in the registration process.
College Night events will feature in-depth information on Keiser's learning experience which includes traditional classroom instruction coupled with virtual and blended education options that have quickly become an important part of the college experience. A trendsetter in virtual learning, Keiser University made its first foray into online education in 1998 and now offers virtual learning components for every course offered.
In addition to academic information, all College Night events will feature a virtual Halloween costume contest with prizes being awarded to the spookiest and best dressed.
Keiser University offers more than 100 academic majors including programs in many of Florida's targeted industries: life sciences, homeland security, information technology, transportation and logistics, professional services, and manufacturing and logistics. Keiser students benefit from a focused approach that includes small class sizes and a one course at a time schedule.
The list below shows the participating Keiser University campuses taking part in College Night on October 28, 2020. For more information or to register, visit www.KUOpenHouse.com or call 1-888-844-8404.
Keiser University—Clearwater
(727) 576-6500
Keiser University—Daytona Beach
(386) 274-5060
Keiser University—E-Campus
 (954) 351-4040
Keiser University—Fort Lauderdale
(954) 776-4456
Keiser University—Fort Myers
(239) 277-1336
Keiser University—Graduate School
(954) 318-1620
Keiser University—Jacksonville
(904) 296-3440
Keiser University—Lakeland
(863) 682-6020
Keiser University—Melbourne
(321) 409-4800
Keiser University—Miami
(305) 596-2226
Keiser University—Naples
(239) 513-1135
Keiser University—New Port Richey
(727) 484-3110
Keiser University—Orlando
(407) 273-5800
Keiser University—Pembroke Pines
(954) 431-4300
Keiser University—Port St. Lucie
(772) 398-9990
Keiser University—Sarasota
(941) 907-3900
Keiser University—Tallahassee
(850) 906-9494
Keiser University—Tampa
(813) 885-4900
Keiser University—West Palm Beach
(561) 471-6000
About Keiser University:
Keiser University is a private, not-for-profit university, serving nearly 20,000 students and employing 3,800 faculty and staff members. Co-founded in 1977 by Chancellor Arthur Keiser, Ph.D., and Evelyn Keiser, the university currently offers more than 100 degrees at 21 Florida campuses, as well as online and at two international sites. Keiser University is accredited by the Southern Association of Colleges and Schools Commission on Colleges as a level VI institution to award certificates and degrees at the associate, baccalaureate, masters, specialist, and doctoral levels. For additional information regarding Keiser University, visit www.keiseruniversity.edu.
# # #