Keiser University's College of Chiropractic Medicine Is Presented $15K Donation by Standard Process, Inc.
February 15, 2019
For Immediate Release
Media Contacts
Kelli Lane / 954-235-0331 / [email protected]
Suzi McCreery / 561-301-9583 / [email protected]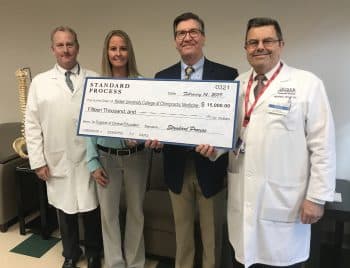 Keiser University's College of Chiropractic Medicine was recently presented a generous donation from Standard Process, Incorporated.
"We are delighted to be the recipients of this generous gift. The addition of the equipment will provide meaningful educational opportunities for our students as we prepare them to flourish within their field," said Arthur Keiser, Ph.D., Chancellor of Keiser University.
The donation will go toward furnishing and equipping the new Keiser University Spine Care Clinic which opened to the public at the university's West Palm Beach campus on February 1, 2019.
"We are honored to partner with Keiser University to advance Chiropractic education through our contribution to the new teaching clinic," says Charlie DuBois, Standard Process president and chief executive officer. "This important collaboration provides future doctors with invaluable hands-on training to deliver optimal patient care."
The new facility is the first chiropractic medical clinic for Keiser University and is part of the university's continued service to the community of South Florida. "Standard Process has always been one of the most generous and consistent supporters of chiropractic education, and we are very honored to accept this significant contribution to assist in equipping our teaching clinic," said KUCCM Dean Michael Wiles.
The goal of Keiser University's College of Chiropractic Medicine is to graduate competent, caring, and science-driven chiropractic physicians, by providing an educational and clinical environment that allows students to excel in an evolving, team-based healthcare system.
Standard Process is a family-owned company dedicated to making high quality and nutrient-dense therapeutic supplements for three generations. Standard Process focuses on achieving holistic health through nutrition. From their organic, regenerative-farming practice in Palmyra, Wisconsin to their Nutrition Innovation Center research facility in Kannapolis, NC, Standard Process is committed to clinical science that advances health and transforms lives. The company employs high-quality control standards and follows the U.S. Food and Drug Administration's good manufacturing practices.