Keiser University's College of Chiropractic Medicine Receives $30K Donation
Posted on October 23, 2018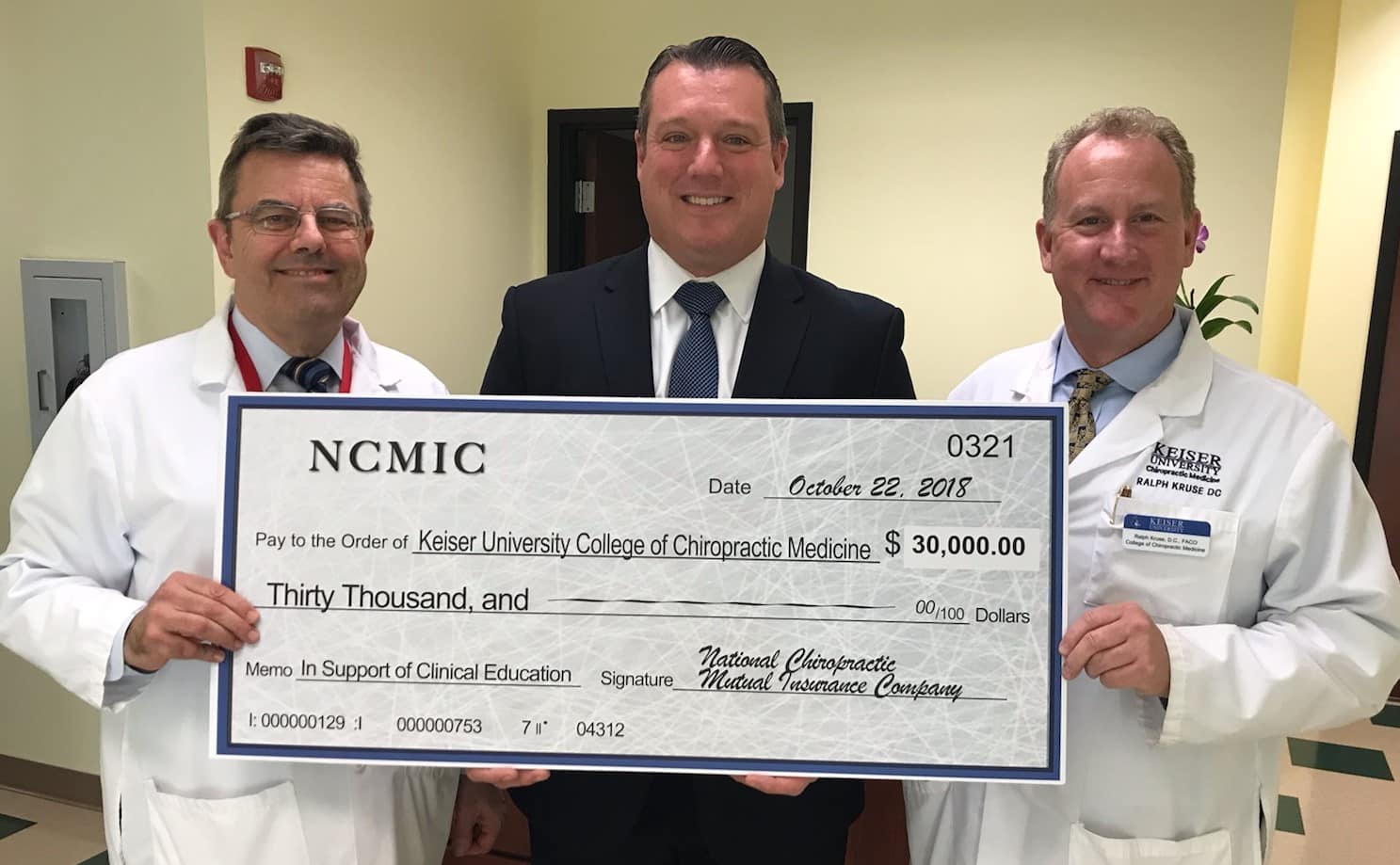 Keiser University's College of Chiropractic Medicine (KUCCM) has received a substantial donation for its new chiropractic training clinic at the West Palm Beach campus. During a ceremony at the college on Monday, Oct. 22, 2018, NCMIC Insurance Company presented a $30,000 contribution to assist in equipping two clinical rooms with state-of-the-industry chiropractic treatment and diagnostic equipment.
"We are extremely grateful to NCMIC for their generosity and support of our new Doctor of Chiropractic program," said KUCCM Dean Michael Wiles, DC, MEd, MS, FCCS(C), FICC. "In addition to their contribution to our teaching clinic facility, NCMIC provides lectures on risk management to our students every semester. We consider them as partners in our quest to provide excellence in clinical education."

The NCMIC donation will go toward state-of-the-industry Cox8 chiropractic tables and other diagnostic and therapeutic equipment for the new KU Spine Care Clinic, which is scheduled to open to the public in January, 2019.
"NCMIC is pleased to provide funding for these clinical rooms that are essential for students to gain hands-on experience treating patients in a supervised setting," said Dan Zimmerman, Director, Corporate Relations, NCMIC.
"Our motto is "We Take Care of Our Own®," and one way we demonstrate that philosophy is by supporting important chiropractic research and education projects such as this one at Keiser University."
The goal of Keiser University's College of Chiropractic Medicine is to graduate competent, caring, and science-driven chiropractic physicians, by providing an educational and clinical environment that allows students to excel in an evolving, team-based healthcare system. The new facility will be the first chiropractic medical clinic for Keiser University and is part of the university's continued service to the community of South Florida.
"We are honored to be the recipients of this generous gift from NCMIC," said Arthur Keiser, Ph.D., Chancellor of Keiser University. "We appreciate their partnership in providing the best educational opportunities for our students and in preparing them to provide outstanding care for their future patients."
Comments