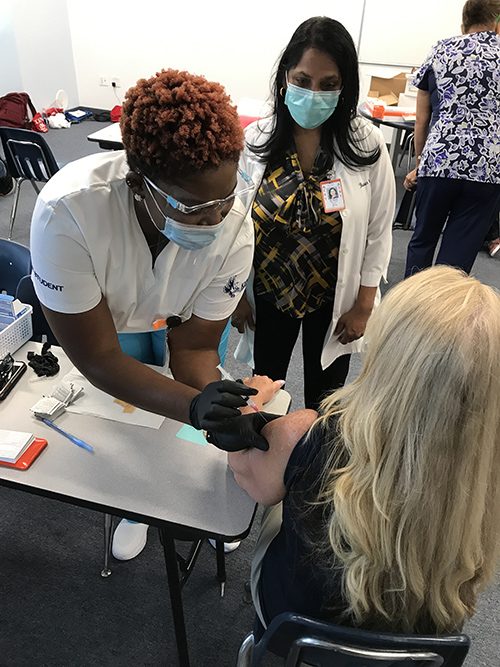 Keiser University's Port St. Lucie Campus to Host Vaccine Clinic
September 9, 2021
For Immediate Release
Media Contacts
Jeff LaLiberte / 954-821-3986 / [email protected]
Suzi McCreery / 561-301-9583 / [email protected]
Keiser University's Port St. Lucie Campus to Host Vaccine Clinic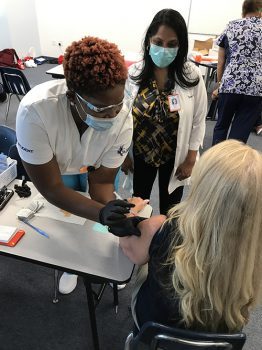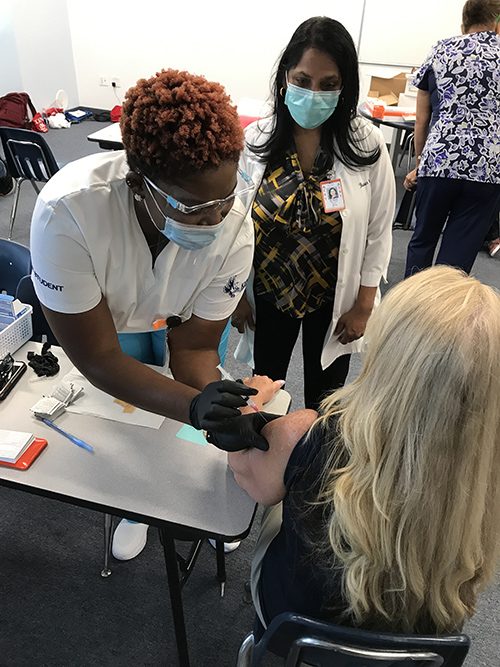 The university's Bachelor of Science in Nursing students will administer the vaccine.
What:           The City of Port St. Lucie, in a public/private partnership with Dr. Mark Pamer, is hosting a free, COVID-19 vaccine clinic at Keiser University's Port St. Lucie campus. Keiser University nursing students will be assisting Dr. Pamer with vaccine administration and monitoring.
When:          Friday, Sept. 10, 2021, from 1 p.m. to 5 p.m. Public and walk-ins welcome.
Where:         Keiser University
                        9400 SW Discovery Way
Port St. Lucie, FL 34987
Why:  The clinic will be administering Pfizer, Moderna, and Johnson and Johnson COVID-19 vaccines. Johnson & Johnson is a single-dose vaccine. Pfizer and Moderna both require a first and a second dose; a third dose is recommended for patients who self-disclose that they are moderate to severely immunocompromised. All doses are available at this clinic (1st, 2nd, or 3rd for the immunocompromised). COVID-19 vaccines are free. For more information, visit www.cityofpsl.com/vaccine.
Keiser University students in the Bachelor of Science in Nursing (BSN) program will be assisting Dr. Pamers with vaccine administration and patient monitoring. Keiser BSN students assisting are part of the Health Promotion, Disease Prevention: A Community Perspective course and have successfully passed course work in medication administration including administering injections. The Keiser University traditional Bachelor of Science in Nursing program is offered for students beginning their first professional nursing program. Graduates will be prepared to provide compassionate, patient-centered, culturally competent nursing care to individuals, families, groups, communities, and populations in a variety of settings, using evidence-based knowledge and skills related to wellness, health promotion, illness, disease management, and end-of-life care to improve healthcare outcomes.
What to bring to your appointment?  Bring a valid form of ID (driver's license, passport, etc.) to your vaccination appointment. If your ID does not list a Florida address, you will be asked a series of simple questions such as, "While you are in Florida, are you providing goods or services that benefit residents and visitors in Florida?"  If you are attending this clinic for a second or third dose of vaccine, please bring your Vaccine Card.
Vaccine eligibility:  Port St. Lucie must operate in accordance with Florida's vaccination eligibility guidelines. As of April 19, 2021, all adult Floridians or out-of-state residents who are in Florida to provide goods or services that benefit residents and visitors are eligible to receive any COVID-19 vaccine as prescribed by the Food and Drug Administration. The Pfizer vaccine is authorized for individuals 12 and older; anyone younger than 18 years old is required to have a parent or guardian present at the time of the vaccine. Individuals 18 and older are eligible for the Johnson & Johnson and Moderna vaccine.
What's New? Due to the current availability of all COVID-19 vaccines, vaccine clinics held by the public-private partnership will offer first (1st), second (2nd) and when applicable third (3rd) doses at each clinic.  The public-private partnership will be holding weekly clinics for the foreseeable future where residents will be able to receive their second or third doses.  There are also multiple other venues residents can use to obtain second or third doses.  To find vaccine providers close to you navigate to "vaccines.gov" on the internet or call 1-800-232-0233.
*Effective August 13, 2021, the CDC recommends that people who are moderately to severely immunocompromised receive an additional dose of an mRNA COVID-19 Vaccine (Pfizer or Moderna) at least 28 days after the completion of the initial mRNA COVID-19 vaccine series.
Effective August 23, 2021, U.S. Food and Drug Administration gave full approval to the first COVID-19 vaccine. The vaccine, known as the Pfizer-BioNTech COVID-19 Vaccine, (Pfizer) for the prevention of COVID-19 disease in individuals 16 years of age and older. The vaccine also continues to be available under emergency use authorization (EUA), including for individuals 12 through 15 years of age and for the administration of the third dose in certain immunocompromised individuals.  Moderna and Johnson and Johnson vaccines continue to be available as well under emergency use authorization (EUA).
Vaccine type:  The Florida Department of Health in St. Lucie County distributes vaccines throughout the county. The type of vaccine distributed is based on state and federal supply lines.
Vaccine Doses:  To date the guidance regarding vaccination doses are as follows:
Johnson and Johnson is a one-dose vaccine recommended for adults 18 years and older
Pfizer is a two-dose vaccine.  The Centers for Disease Control recommends the second dose being administered twenty-one (21) days after the first. *
Moderna is a two-dose vaccine.  The Centers for Disease Control recommends the second dose being administered twenty-eight (28) days after the first. *
 About Keiser University
Keiser University is a private, not-for-profit university, serving nearly 20,000 students and employing 2,900 faculty and staff members. Co-founded in 1977 by Chancellor Arthur Keiser, Ph.D., and Evelyn Keiser, the university currently offers more than 100 degrees at 21 Florida campuses, as well as online and at two international sites. Keiser University is accredited by the Southern Association of Colleges and Schools Commission on Colleges as a level VI institution to award certificates and degrees at the associate, baccalaureate, masters, specialist, and doctoral levels. For additional information regarding Keiser University, visit http://www.keiseruniversity.edu.