The 8th Annual IT Pro Camp was hosted by Keiser University's Jacksonville Campus last Saturday and participants are eagerly awaiting next year's event. IT experts, MVP's, mentors, and masters shared their expertise during this free event. IT Pro Camps are one-day learning IT events, which caters toward IT technologies, such as, server administration, networking, security, web development, cloud, and virtualization. IT Pro Camps offer a conference style learning environment free of charge and are open to presenters of all backgrounds and expertise. "Journeymen are taken on a quest and that's what IT Pro Camp is about," says lead volunteer, Richard McIntyre. This camp is a premier information technology event for all ages, skill levels, and professions.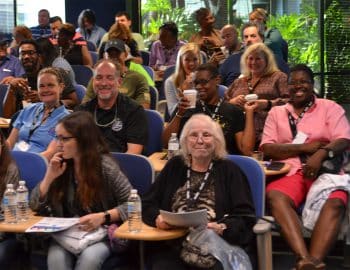 Sponsors for the event included: iHeart Radio, First Florida Credit Union, New Horizons Computer Learning Centers, SNI Technology, Sapien Technologies, Modis, and many more.
Mark your calendar, so that you can join IT Pro Camp professionals, network administrators, and project managers for next year's event on June 6, 2020. For more information, please visit: http://ITProCamp.com.