FORT LAUDERDALE The Student Services and the Legal Studies teams hosted a seminar in honor of Constitution Week for the students of the Fort Lauderdale campus. The seminar, led by Professor Ronnie Savar of Legal Studies, consisted of a discussion on the first 10 Amendments to the United States Constitution, two short videos indicating the importance of having a voice through voting, and the KUFTL Constitution Feud! Students were divided into two teams, each with a team captain, and the battle of U.S. history began. Questions included "Name a current U.S. Supreme Court Justice" and "Give an example of a court case centered on students' rights."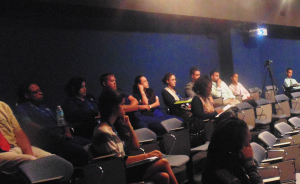 COLLEGE OF GOLF AND SPORT MANAGEMENT
The College of Golf & Sport Management students sign the Constitution to kick off Constitution Week. The week's activities include: voting for Founding Father, constitution quizzes and prizes.
 DAYTONA BEACH
Daytona Beach kicked off Constitution Week with a trivia game for students – "Stump the Eagle!". Students enjoyed competing in the games, winning prizes, and celebrating with cake. New Smyrna Beach High School students also enjoyed the festivities while they toured our campus.
WEST PALM BEACH
The West Palm Beach Campus had a variety of activities on campus to celebrate Constitution Day.  They hosted a voter registration drive for day and evening students. A representative from the Palm Beach County Supervisor of Elections was on campus to register new voters or to make changes to current registrations.
Legal Studies Faculty, Gary Chapman, had a special interactive, presentation in the auditorium at 10:30 am, 12 pm, & 6:45 pm, educating students about the US Constitution.
Additionally, Hadi Sheikhnia, West Palm Beach Campus Librarian, created a PowerPoint presentation to display on our lobby televisions as well as a book display in the lobby.  He also had an interactive US Constitution display, allowing students to experience signing the Constitution just as our fore fathers did.
FORT MYERS
Fort Myers Campus celebrated the 227th birthday of the United States Constitution in grand style.  A special presentation was put on by Sharon Harrington, Supervisor of Elections for Lee County and staff.  Students learned about elections in Lee County as applied to the Constitution.  It began and ended with clips from School House Rock ("The Preamble" and "I'm Just A Bill").  Every student was given a pocket Constitution to take with them.  Alexander Hamilton served as the master of ceremony for the presentation.  The festivities concluded with singing Happy Birthday to the Constitution as students enjoyed cake in honor of the occasion.  Following the presentation, students took advantage of registering to vote.  A special display was also created by the University library staff.  The next day students took turns signing their names to the Constitution.  The signed document was sent to the National Constitution Center in Philadelphia to mark that Keiser University Fort Myers celebrated Constitution Week!
PORT ST. LUCIE
TALLAHASSEE
The Tallahassee campus celebrated 2014 Constitution Week with a variety of Academic Activities, Social Activities, Information and Decorations.  All students were given pocket constitutions, participated in various Academic events such as the constitutional quiz and were treated to our Annual Ice Cream Social.  During the Ice Cream Social, they were joined by a  potential employer from Modern Woodmen of America who distributed American Flags as well as other information, announced the winners of the Constitutional Quiz, as well as distributed information regarding the E.A.G.L.E campaign.