Thanks to the Center for Culinary Arts at the Melbourne campus, we have a chocolate cake recipe and pictures of the finished product for anyone who wants to make a cake today!
Chocolate Beetroot Cake
Yields on 8" cake
Set oven to 325° F 
Ingredients –
½ pound beets, scrubbed, roasted and pureed
7 ounces dark chocolate, chopped
½ cup grapeseed or vegetable oil
¼ cup walnut oil
¼ cup orange or clementine juice plus the zest of ½ orange or 1 clementine
5 eggs, separated
1 cup granulated sugar
1 cup + 2 Tablespoons All Purpose flour
1 ¼ teaspoons of baking powder
3 Tablespoons good quality Cocoa powder- but NOT Dutch Process
Directions –
Lightly oil an eight inch spring form pan, set the oven to 325° F and place a rack in the center of the oven.
Place the chocolate in a heatproof bowl and set over a pot of simmering water. Once melted, remove from the heat and pour in the oils, the egg yolks, the juice and the beet puree. Whisk to combine the ingredients
Sift the flour, cocoa and baking soda together and stir into the chocolate mixture.
In a mixer, whip the egg whites until frothy, gradually adding sugar as you continue to whisk to create stiff, shiny peaks.
Fold the egg whites into the cake base, pour into a prepared pan and bake for about 40 minutes- just until the center of the cake tests for a moist crumb. (Insert a toothpick and it should come out with moist crumbs attached.)
Place the pan on a rack and allow to cool for approximately 30 minutes. (The pan should feel warm to the touch and be easy to handle.)
Dust the cake with cocoa, cut in wedges and serve with blood orange sorbet, vanilla ice cream, sour cream or as is.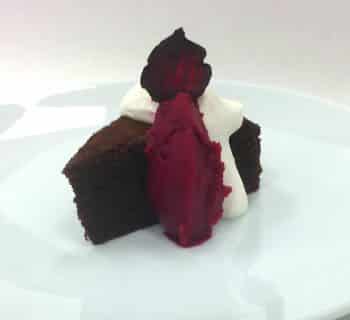 Pictured: Cake with beet/orange sorbet, sour cream and a candied beet chip