What is your favorite book?    The Harry Potter series
What is the most unusual question you have been asked as a librarian?   While working on the Ask A Librarian statewide reference desk.  If you're lucky enough to be on the desk when middle-schooler's get on, you tend to get asked questions by a bunch of jokesters. I have even had lengthy conversations about knock-knock jokes.
Why did you choose to become a librarian?   My mom was a librarian.
What is a little known fact about library usage?   College libraries receive fewer than three cents of every dollar spent on higher education.
Librarians are always so resourceful, why is that?   I believe part of our resourcefulness is due to the quest for knowledge. I love to go on the hunt for information…especially if it is about a topic I don't know a lot about.
What will libraries be like in 2050?    There are always people who claim that libraries will become obsolete. I argue the opposite. The more society evolves and the more technology grows, the more useful libraries will become. Libraries are more than the image of spinster librarians shushing people reading musty books. Libraries are major parts of the community. Each library adapts its services to meet the needs of the community. Is there a need to teach computer coding? Libraries have the programming. Is there a need for tax help? Libraries offer the tax professionals. Is there a need for meeting spaces? Libraries offer meeting spaces. Of course libraries offer books and resources; but libraries are always up on the current trends or possible trends in the future. Wherever technology decides to go by 2050, the library will be a part of the growth.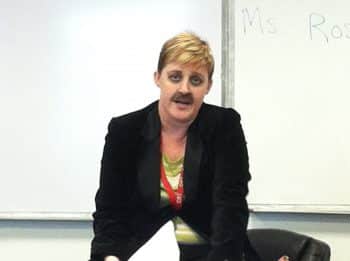 Lisa dressed as Edgar Allen Poe as a resource for American Lit Class