What is your favorite book?  The Princess Bride is one of my favorite books. And it's the only time where I loved the movie BEFORE I read the book.
What is the most unusual question you have been asked as a librarian?   No question is too far out of the realm of librarianship. So keep your "unusual" questions coming!
Why did you choose to become a librarian?  Books are about the only physical object that bring me joy, even when not being used for their purpose. Just the presence of books brings me joy. Working in a library gives me the ability to help people and spend my day around books!
What is a little known fact about library usage?  College libraries being public libraries, too! Everyone's welcome.
Librarians are always so resourceful, why is that?  A librarian's nature is to find a way. If something doesn't work the first way you try, you try a different approach—try a different search term, ask the patron the question in a different way to get to the information needed.
What will libraries be like in 2050?  Just as they are in 2017, libraries in 2050 will be a community gathering spot and a place of resources.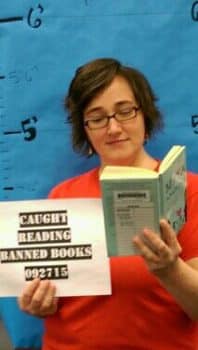 Mary Thompson, Librarian,  caught reading a Banned Book during Banned Book Week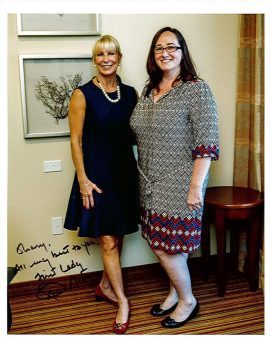 Mary Thompson with First Lady of Florida, Ann Scott at the Southwest Florida Library Network Annual Meeting