Neuroscience Exhibit Offers Insights to KU Flagship Campus Students
June 27, 2019
Media Contacts
Kelli Lane / 954-235-0331 / [email protected]
Suzi McCreery / 561-301-9583 / [email protected]
Neuroscience Exhibit Offers Insights to KU Flagship Campus Students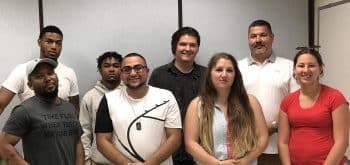 West Palm Beach, Florida – June 2019 – Several Keiser University Flagship campus students recently enjoyed attending a Neuroscience Exhibit held at the South Florida Science Center and Aquarium.
Led by Flagship campus Department Chair and Criminal Justice Professor Robert Brzenchek, the Critical Thinking class was able to explore the "Journey Through the Human Brain" exhibit featuring the latest research and innovations with high-tech displays, immersive experiences, and the latest in modern equipment . Students gained insight relating to the chemistry and integrated circuitry of the brain as they researched disorders and delved into the ground-breaking investigation taking place at world-famous research centers located in Palm Beach County.
"These types of field trips augment the curriculum presented within the Keiser University classroom and connect theory to practice for our students," said Brzenchek "I enjoy teaching students from all disciplines in the Critical Thinking course as I glean different perspectives from them beyond the Criminal Justice program courses I normally facilitate."
Serving Palm Beach County since 1961, the South Florida Science Center and Aquarium emphasizes the excitement of science in relation to adventure and exploration.  New programs such as science programming and tech ventures based on computer coding, robotics, and leading-edge educational curriculum have allowed them to educate more young minds than ever before, now serving over 250,000 students, teachers and visitors annually, including 75,000 through field trips and educational outreach into schools and classrooms.
About Keiser University
Keiser University is a private, not-for-profit university, serving nearly 20,000 students and employing 3,800 faculty and staff members. Co-founded in 1977 by Chancellor Arthur Keiser, Ph.D., and Evelyn Keiser, the university currently offers more than 100 degrees at 21 Florida campuses, as well as online and at two international sites.
Keiser University is accredited by the Southern Association of Colleges and Schools Commission on Colleges as a level VI institution to award certificates and degrees at the associate, baccalaureate, masters, specialist, and doctoral levels.
For additional information regarding Keiser University, visit www.keiseruniversity.edu.