Katrina Matt has always wanted to be a Nurse, even while she was teaching at an elementary school, and after 20 years,
"I decided to pursue my first love, which was Nursing."
Katrina, pictured below, is one of 21 Keiser University Lakeland Nursing Students who finished their Associate of Science in Nursing in December, and attended a socially distanced Pinning Ceremony, where friends & families watched via a live Zoom feed. Nursing Pinning Ceremonies are a unique event that often involve family members and friends, as well as faculty members, but Keiser Lakeland had to get creative to hold a Pinning Ceremony while still adhering to CDC guidelines. At the First Presbyterian Church of Lakeland, Nursing Students sat over 6 feet apart, and wore PPE throughout the ceremony.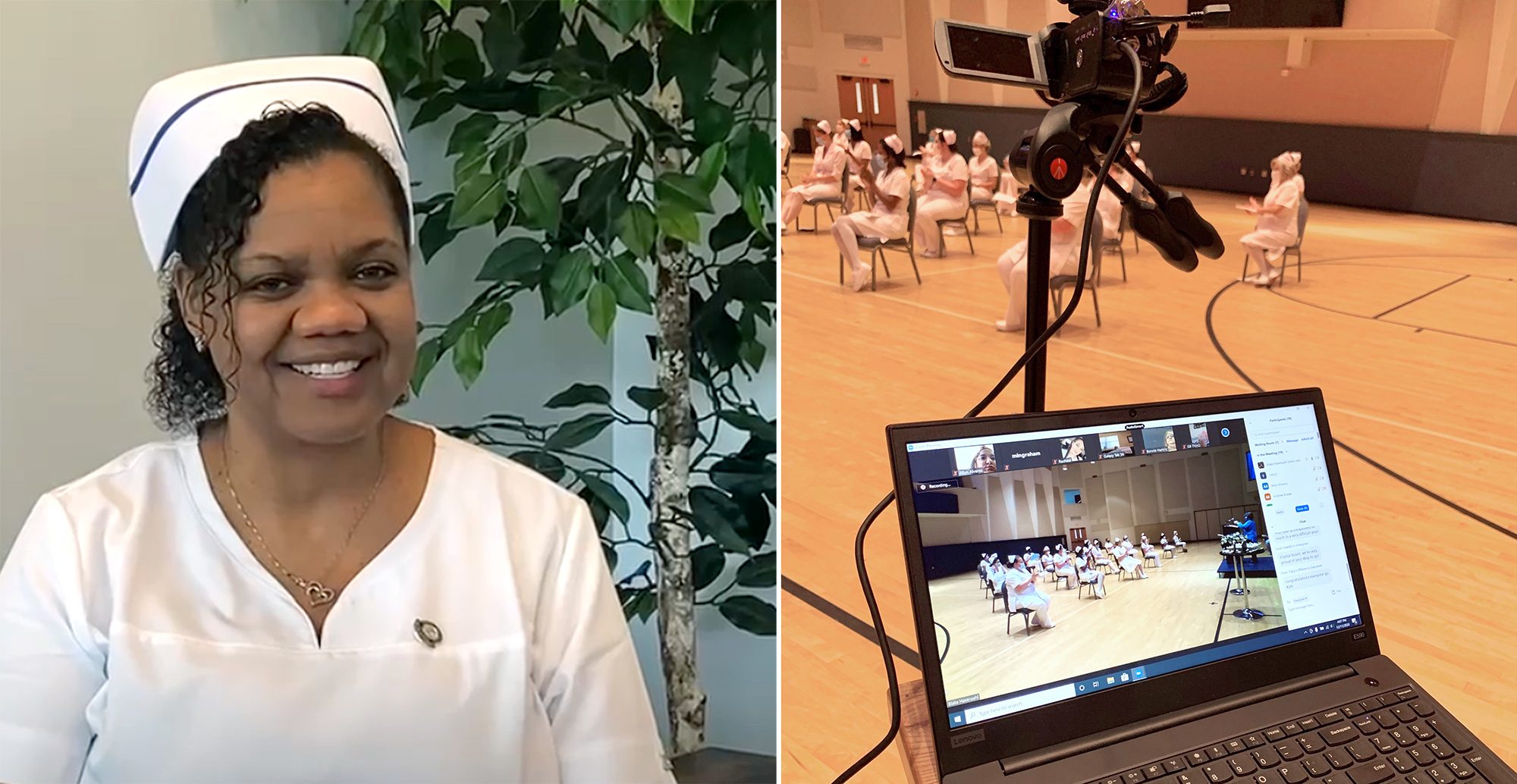 Carly Evans, Director of Student Services at the Lakeland campus, is extremely proud of the impact Keiser's Nursing Graduates have had on the local community. "I'm always amazed at how many Keiser grads make up the nursing workforce in our local market," Evans shared, as she pointed to a photo in her office. "I have several nurses in my family, and I know exactly how hard they work. It's both inspiring and humbling."
Another challenge during the pandemic for Nursing students was completing a required clinical rotation, and see real patients, but it didn't seem to faze Katrina. "Clinicals during the pandemic weren't really all that bad," she recalled, "there weren't a lot of people allowed in the Hospital, so it actually made a better learning [experience] for new students."
When asked about her plans for the future, Katrina has it all figured out. "I'm so grateful because the Lakeland Keiser campus helps prepare us for the interview," Katrina said through a smile, "and many of us got jobs, and I'm one of them, [I] already have a Nursing job with a local Hospital, so I plan to work as a Registered Nurse right here in Lakeland." Beyond that, Katrina says she plans to pursue her Bachelor's Degree in Nursing, which is also offered at Keiser's Lakeland campus.
Watch Katrina Matt's post-pinning interview here: https://youtu.be/XzBYLzJoUzI